All you need to know about Android Pay: compatible devices, availability, safety features and more
14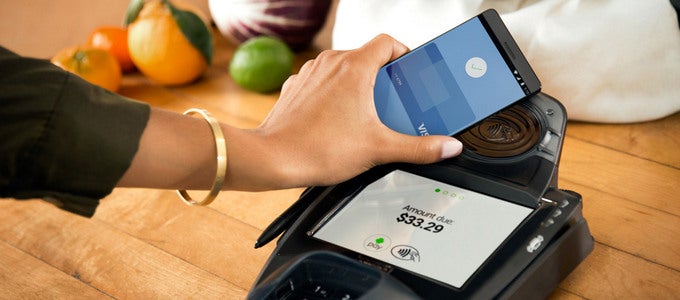 Flying cars, hoverboards, and dehydrated pizzas – these are all things Back To The Future II expected us to have in 2015. Obviously, we haven't yet mastered the art of retrofitting DeLoreans with flying gear, but we do have this other piece of tech the well-known sci-fi movie predicted – mobile, cash-free payments. Indeed, it is now possible to whip out your smartphone and pay for your Big Mac straight from your smartphone.
Android Pay is one of the digital wallet platforms that make this possible. Announced by Google earlier this year, it builds on what Google Wallet established to bring hassle-free payments to Android users. It is safe, easy to use, and already accepted at a number of retailers throughout the U.S. And in case you haven't yet given Android Pay a try, here's all you need to know about it.
What devices are compatible with Android Pay?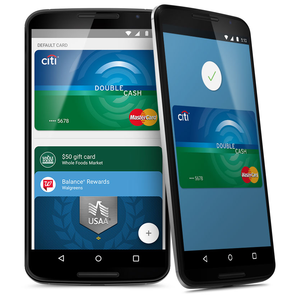 To use Android Pay, you need a smartphone or tablet running Android 4.4 or above. This requirement is met by about 60% of the Android devices in existence, and if yours has been purchased within the past couple of years, it should be compatible with Google's payments platform. At least when it comes to software, that is. You may check the version of Android installed on your device by going to Settings > About Device. It does not matter which wireless carrier's services you're using.
What matters, on the other hand, is whether your Android device is rooted or not. Whether it is running stock software or a custom ROM is also a factor. (If you don't know what these are, you're probably fine.) Root users will need to disable their elevated access privileges prior to setting up Android Pay, after which they can turn root access back on. Nexus users will also have to make sure that their bootloader is locked. And as far as custom ROMs go, most of them are likely to be incompatible with Android Pay.
Android Pay works on NFC-enabled smartphones and tablets running Android 4.4 and above
On the hardware side of things, Android Pay requires NFC, which is the radio that makes it possible for your Android device to communicate with PoS terminals. The great majority of Android phones do have NFC, and so do some tablets. There are notable exceptions, however. The OnePlus 2, for instance, does not have an NFC radio in it, which makes it incompatible with Android Pay. If in doubt, consult with our vast specs database to make sure your Android device is NFC-capable, and if it is, make sure its NFC radio is enabled in Settings.




We must also point out that Android Pay does not require a fingerprint scanner in order to work. Sure, having one is definitely convenient as you'll be able to authorise payments with a scan of your finger. But even if your device lacks a fingerprint scanner, you may still use a PIN or pattern instead.




Another fact we'd like to highlight is that Android Pay won't work from your smartwatch. Compatibility with Android Wear might come at a later point in time, but not until Google's wearables platform gains native support for NFC.



Where can I use Android Pay?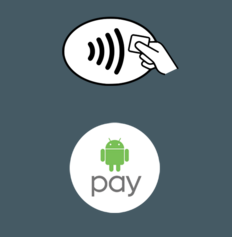 Contactless payments logo (top) Android Pay logo (bottom)
At this time, Android Pay works solely in the U.S. That is disappointing, to say the least, seeing that competing mobile payments platforms have broader availability. But if Google's platform does take off, then we might see it landing in other major markets around the world. The accent here is on "might" as we have no official indication of that ever happening. Keep your fingers crossed.
Android Pay may be used at point-of-sale terminals that accept contactless payments, as indicated by the logo you see on the right. Some retailers may have already placed an Android Pay logo at their counters, which is further, but not mandatory, confirmation that Google's payment system is accepted.
Now would be a good time to mention that Android Pay is projected to become implemented in a number of popular apps. Airbnb, Etsy, Expedia, TripAdvisor, and Uber are just some of the apps that will soon let you pay via Google's platform. But we're not sure when exactly that's going to become an option. Until then, here are some of the brands that would gladly accept your money via Android Pay at PoS locations: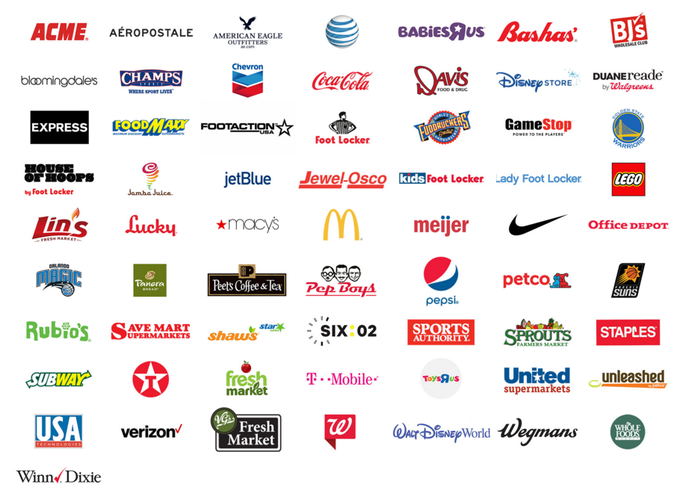 Which banks' cards can be used with Android Pay?
Android Pay works with most major credit and debit cards from the top U.S. networks – Visa, MasterCard, Discover, and American Express. Below is a list of banks whose cards should work with Android Pay, although there's always the chance of a specific card not being eligible for the service.
American Express
Bank of America
Capital One (Coming Soon)
Citibank
Discover
Navy Federal Credit Union
PNC
Regions
USAA
U.S. Bank
Wells Fargo
Is Android Pay secure?
No electronic system is 100% secure, yet measures have been taken to ensure that using Android Pay is really safe. One of them is that your actual card information isn't being sent when making a transaction. Instead, Android Pay uses a virtual account number along with a one-time confirmation code – a method that does not reveal any sensitive data to the merchant. Also, you're provided with a track record of your transactions and notifications when one takes place – whenever you use the service, the amount of money and the location where it was spent are being recorded. Suspicious activity can be spotted instantly. And if you lose your phone, you may lock or wipe it using Android Device Manager instead of cancelling any cards you may have enrolled with Android Pay.
Sounds good! Now how do I use Android Pay?
Getting started with Android Pay is a fairly simple process. On a compatible device, download and open the Android Pay app, which is available on the Play Store. Then follow the instructions.
Like it or not, you'll need to set up a screen lock of some kind. It is for your cash and data's safety, after all. And no, it does not have to be your card's PIN.
At this point you may scan your card with your device's camera or enter its details manually. Once your card has been enrolled, you're free to start using it. The first card you enroll becomes your default one, but you're free to add more and switch between them if needed.
Note that you don't have to launch the app to make a payment. To use Android Pay, just unlock your phone and place it over the terminal. Keep in mind that if you want to return an item, you may be asked for the last four digits of your virtual account number, which we mentioned above. Your number is found in the Android Pay app. And remember that your receipt from the merchant is what serves as proof of purchase. Make sure you hold on to it for your records.
There's just one more detail we want to mention, as some of you may already have cards set up for tap and pay in Google Wallet. In case these cards are incompatible with Android Pay, you may continue using them, but only for a limited time.