Got only $100 for a smartphone? ZTE introduces the Blade Spark, the budget-friendly midranger
4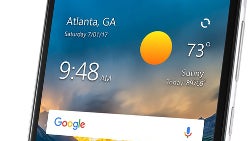 ZTE is no stranger to the budget-oriented market as it often sets an aggressive pricing on their phones, putting it well inside the bargain range. Today, the company has announced its newest lower-tier phone — an AT&T exclusive, which will set you back only $100. Is it worth it?
The handset in question is a part of the Blade family and is called ZTE Blade Spark. With its rather light price-tag, its specs are justifiably low-tier — a quad-core, 1.4 GHz Qualcomm Snapdragon 425 SoC, 2 GB of RAM, and 16 GB of storage (7 GB available to user) expandable via microSD. The display is rather large, with a 5.5-inch diagonal, but not extremely sharp, with a 720 x 1280 pixel resolution. The cameras sound good on paper, with a 13 MP PDAF-assisted sensor at the back and a 5 MP snapper on the front and there is a dedicated selfie button on the phone for you social media fiends out there. There's an included fingerprint scanner on the back, which was nice of ZTE, considering the price.
Considering it's a phone that's best meant for light usage, its 3,140 mAh battery seems quite generous and will probably last you a while. The manufacturer specs claim it can hold out for 17 hours of talk time, 53 hours of music (with headphones), and 10 days of standby.
The Blade Spark comes with Android 7.1.1 Nougat out of the box and it appears like the operating system has only been lightly re-skinned, with no unneeded bells and whistles attached. Browsing through the list of pre-installed apps, we can see that the manufacturer chose to go with Google's Play Music, Photos, and Chrome as default apps, not introduce its own duplicates, which is a good sign. Of course, there are the slight offenders like Amazon Shopping, Ypmobile, and Uber pre-loaded.
You can grab the Spark for $99 with an AT&T Prepaid plan at select AT&T stores starting today.