Google's eBookstore open for business in the U.S.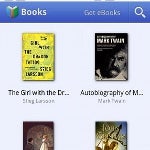 A new bookstore has opened and for many of you, it can accessed right from the palm of your hand. Google has launched its eBookstore in the U.S. along with apps for Android 2.1 or higher, and iOS 3.0 or higher. Other mobile products that will support the store include both the Nook and Sony eReaders. While currently Kindle users cannot access Google's eBookstore, the Mountain View based company said that it is "open to supporting them in the future."
The store opens with 200,000 books that can be purchased, along with close to 3 million free public domain books, and both totals will be growing in the future. Books that you start on one platform can be saved and opened up at the same place on another platform. The "store" can change between "day" and "night" looks with the ability to change font style, size and spacing. The prices for reading material range from $1 to $300 while new releases are priced from $10 to $15. The app will read only those books purchased from the Google eBookstore.
source:
Googlebooks
via
androinica