Google's Pixel coming to T-Mobile?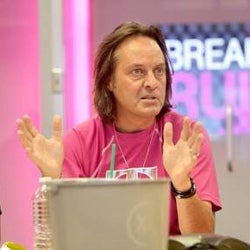 It was almost a month ago when Google
announced it's new Pixels
and revealed that they would
only be available via Verizon
or through
the Google Store (for full price)
. Many people were disappointed due to the limited carrier availability as not everyone wants to drop $600 on a brand-new phone, but rather prefer to get it on a provider contract.
Well, it seems the
Pixel
might hop on to other carriers after all. T-Mobile's John Legere tweeted a picture with an interesting caption a few hours ago. The photo shows a Google Pixel phone that has been sent to Mr. Legere by the Google team and has a special greeting card attached to it. The text that the T-Mo CEO added pretty much says "We will announce something about T-Mobile + Google Pixel tomorrow. It works great on our network!".
Now, we are usually not quick to jump to conclusions, but this here is not even a veiled teaser. It's a pretty direct pointer to the idea that the Un-carrier will be stocking Google's new smartphones. The one thing we don't know yet is when that is happening.
Seeing as phones sold with T-Mo contracts are usually unlocked or at least come with fewer restrictions than the competing carriers', we wonder if that would mean faster Android updates? We're also curious to see if the Pixel would eventually make it to AT&T and Sprint as well.