Google Store sold out of 128 GB Pixel XL; only one 32 GB version left (Update: all gone)
19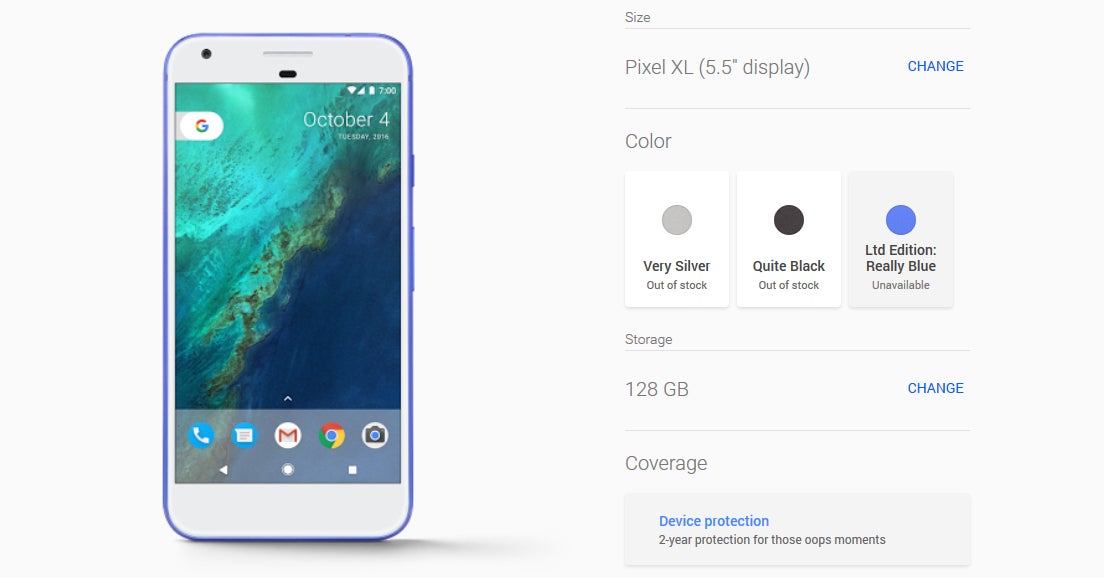 Quite sold out - there's only one variant of the Pixel XL available to pre-order at the Google Store
Update:
There are no Pixel XL models left to purchase at the Google Store for the time being.
Google's
Pixel
and
Pixel XL
arrived to plenty of fanfare earlier this week, and pre-orders began straight after the announcement event in San Francisco. Many rushed to secure a unit over at the Google Store, where the
Really Blue Pixel and Pixel XL sold out in a heartbeat
. Now, the 128 GB Pixel XL is also out of stock, so if that's the model you intended to grab, you'll have to wait until Google can replenish its inventory (or go for a Verizon / carrier mode).
The Pixel and Pixel XL have a lot going for them, but there are some missing features we'd love to have seen. Few would have complained, for example, if the Big G had thrown a microSD slot into the equation. 128 GB is serviceable amount of real estate and for many, it's more than enough. But it's always nice to have the option on the table, and those who like such flexibility will probably look elsewhere.
If you like having plenty of extra legroom, the 128 GB versions of the Pixel and Pixel are the only options even worth considering of Google's new line-up. Sure, there's Smart Storage, which allows Pixel owners to save all captured videos and photos in the cloud at original quality without any downscaling or compression. But that's not going to help if you're downloading apps or games at often several gigabytes a pop, and after you factor in the Nougat operating system complete with Assistant and the other perks Google's throwing in, 32 GB of space will surely feel cramped.
As well as all of the Really Blue Pixels and the 128 GB Pixel XLs, the 32 GB XL model is only now available in Quite Black over at the Google Store. Of the 5-inch Pixel, there's only the Very Silver version of the 128 GB model left, though you can still score the 32-gig Pixel in any color except
Very
Quite
Really Blue.