Google seeks customer support pros for the Nexus One?
0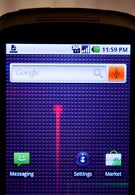 When Google first launched the Nexus One, the idea was that this phone would be distributed differently than other handsets. The phone was to bypass the retailers and the carriers and be offered directly from Google. Questions about the device were to be handled by HTC, the phone's manufacturer, or T-Mobile, whose network the first N-One would be running on. If Google were to get involved, it would be done through posts on public forums, or via e-mail although a response to the latter could take up to 3 days.
Getting people to change their habits is hard, if not impossible. Phone buyers are used to getting answers from live people at the company that sold them the phone, which in the case of the N-One, meant Google. According to Digital Inspiration, Google has posted on its job board that it is seeking a Phone Support Program Manager Android/Nexus One. The job is based at the company's Mountain View campus and the person hired will be responsible for, "ramping up and managing operations of Google's telephone support for our direct-to-consumer Android/Nexus One customers," While Google declined to discuss anymore info related to building out Nexus One support, they did confirm that the ads are legitimate. "The optimal candidate will have direct experience in call center andpartner management to drive customer satisfaction around their supportexperience," says Google. And while the person hired will be in charge of putting together a phone support team, most likely that department will be outsourced to a third party vendor.
HTC Nexus One Specifications
|
Review
source:
digitalinspiration
via
Gizmodo