Google reports higher Q1 profits, says Nexus One is making money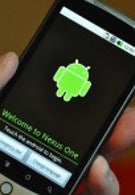 On Thursday, Google reported that the company earned nearly $2 billion or $6.06 a share for the first quarter, up from $1.42 billion or $4.49 per share last year. Some of the profits can be attributed to the Nexus One. While no official numbers have been released, and with most of the so-called experts believing that the handset had not been selling up to expectations, Google made the following statement: "It is a profitable business for us... We are driving the business to be a profitable business from the get-go." Unlike most other handsets, the N-One cannot be found in stores to test or play around with. The handset can be ordered only through Google's web site and in the U.S., 3G service is available through T-Mobile with Verizon expected to soon offer its network to buyers of a CDMA variant of the model.
After reporting the earnings number, Google held a Q &A session with analysts. When one pencil pusher asked about specific earnings numbers for the Nexus One,Jeff Huber-VP of engineering-replied, "We're not disclosing the specific number ... We are very happy with the device uptake and the kind of impact that it's had across the industry." Has Google changed the way that cellphones are sold? Not likely. But the Nexus One has become one of the leaders of a new breed of Android devices with high-res screens, zippy 1GHz processors and ever higher MB of RAM and ROM. And speaking of Android, Google's open source OS is a monster hit with 60,000 devices activated daily, which works out to 22 million a year. And the latest count shows 38,000 apps in the Android Market. And yet, with all of these positives, the stock has dropped nearly 5% after the numbers were released. This is a good example of "buy on the rumor, sell on the news".
HTC Nexus One Specifications
|
Review
source:
AndroidGuys