Google app Beta (V8.14.12) is crashing on Android P Developer Preview 5
3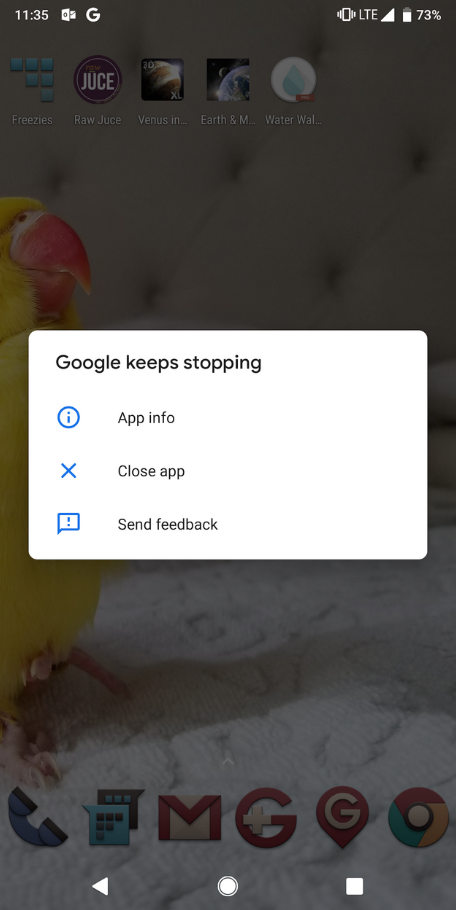 Google app Beta keeps crashing on Android P
The latest version of the Google app Beta (v8.14.12) is like that
pissed off Verizon customer that we told you about late Saturday
; it crashes. In this case, those running the Android P Developer Preview 5 have had trouble keeping the app open since yesterday. On Google+, a number of Android users have posted complaints about the situation. At least one of those complaints is from an Android user who has had the same experience with the Google app without installing any version of Android P on his phone.
There is some speculation that the crashing of the Google app Beta is related to the pairing of the affected Android phone with a Wear OS powered smartwatch. This has yet to be proven. And yes folks, this is why we remind you that the Developer Previews are not stable and are developed mostly for, well, developers so that they can check how their apps are running on the new build.
If you're familiar with sideloading apps on your phone, you can rollback to the previous stable version of the Google app (v8.12.21) by installing it via APK Mirror. To do so, make sure your device supports installing apps from "Unknown sources". Go to
Settings
>
Fingerprints & security
>
Unknown sources
(toggle on). Then you need to click on this
link
. The next release of Android P is expected to be the final version, so whatever is ailing the Google app should be dealt with by Google before the new build is officially disseminated.