Google debuts YouTube beta program on Android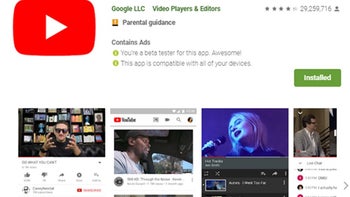 Google has just updated the
YouTube app
FAQ page with information about a brand new beta program for Android users. YouTube beta is aimed at those who wish to test experimental features that might or might not make it to the final version of the YouTube app.
Apparently, the Android Beta Program for YouTube is open to all app developers, but Google asks people to not publicize or share the feature they're testing until they're publicly launched or announced.
In order to become a
YouTube Android
beta testers, you'll have to follow a few steps. Keep in mind that you can opt-out from the beta program whenever you want by visiting the dedicated page and choosing to "leave the program."
Visit the beta testing program's opt-in page (You might have to sign in to your Google Account);
Choose Become a tester;
Follow the onscreen instructions to start using the beta version.
Meanwhile, Google's
YouTube Go app
has just passed the 100 million installs milestone in the Play Store, which makes it the most popular Go app available on the market.