Server-side update brings new look to Google Search results
2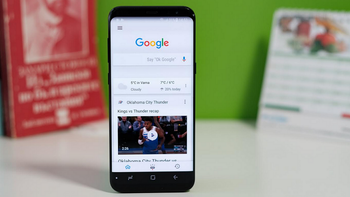 As noted by Android Police
, Google has made a number of changes to the cards it serves up for certain search results. The headers are now pastel, and the cards feature new tabs that can provide more information about the subject. Categories ranging from the weather to sports, celebrities, and even food ingredients have these new cards. For example, the weather card has a smaller illustration but includes the temperature graph and the precipitation chances for the next day right at the bottom. Athletes have new cards with a stat tab that allows users to see how a player performed in recent games.
Looking for a movie to see? Ask Google Search to show you movies in your city and you'll see a list of films. Switch to the performance times tabs to see when and where the movies are playing near you. Search for a specific movie or television show and a new tab called
People also search for
will show sub-tabs containing related titles. Similarly, when you search for a book title, you can now hit a tab marked
get book
to purchase it, and
more by author
to see other books written by the same person.
If you look up the name of a fictional character, the new Google Search result cards show more details. One of the new tabs will show you the name of the actor who portrayed this character in the movies or on television and the name of the television show and movies that the character appeared in.
The update containing these changes are being pushed out to Android users via a server-side update, and there is a possibility that your phone has also received it.