Pixel 2 and Pixel 2 XL vs the Galaxy Note 8, iPhone X, and the best of the rest: size comparison
Google has just made its 2017 smartphone lineup official in the form of the Google
Pixel 2
and
Pixel 2 XL
.
The Google
Pixel
2 features a 5-inch 1080p display, retaining the more traditional design of last year's model, while the Pixel 2 XL follows 2017 trends and is outfitted with a QHD+ 18:9 display surrounded by thin bezels. Employing two very different designs for its new flagship lineup is a smart move on Google's part and an excellent way to cover all bases: have an "oldschool" device with larger bezels to cater to traditionalists, and have another one that follows the new trends to cater to the
cool kids
. Only the Pixel 2 XL doesn't have the thinnest bezels on the block, but that's a different story entirely!
The Pixel 2 offers more of an incremental update over its predecessor, sticking to the same general form factor and design, albeit offering the benefits of the latest in mobile tech under the hood. The Pixel 2 XL is a different beast entirely, as it sports a beautiful 18:9 6-inch display with a resolution of 1440 x 2880 pixels, which puts it in the same league as the
Galaxy S8+
, Note 8,
LG G6
, and LG
V30
, as far its footprint and design are concerned.
With that said, lets see how the Pixel 2 and Pixel 2 XL stack up against the competition in terms of size and weight:
Pixel 2 and Pixel 2 XL vs iPhone 8 and iPhone 8 Plus
Pixel 2 and Pixel 2 XL vs iPhone X and LG G6
Pixel 2 and Pixel 2 XL vs Samsung Galaxy S8 and Galaxy S8+
Pixel 2 and Pixel 2 XL vs Galaxy Note 8 and LG V30
Pixel 2 and Pixel 2 XL vs Pixel and Pixel XL
SUBSCRIBE TO OUR NEWSLETTER!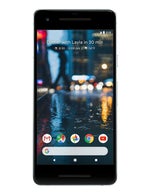 Display

5.0 inches 1920 x 1080 pixels

Camera

12.2 MP (Single camera) 8 MP front

Hardware

Qualcomm Snapdragon 835 4GB RAM

Storage

128GB, not expandable

Battery

2700 mAh

OS

Android 11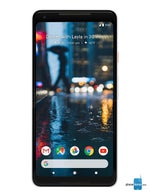 Display

6.0 inches 2880 x 1440 pixels

Camera

12.2 MP (Single camera) 8 MP front

Hardware

Qualcomm Snapdragon 835 4GB RAM

Storage

128GB, not expandable

Battery

3520 mAh

OS

Android 11
FEATURED VIDEO