Pixel 2 XL goes official: High-end tech and a pure Android experience in one stylish package
56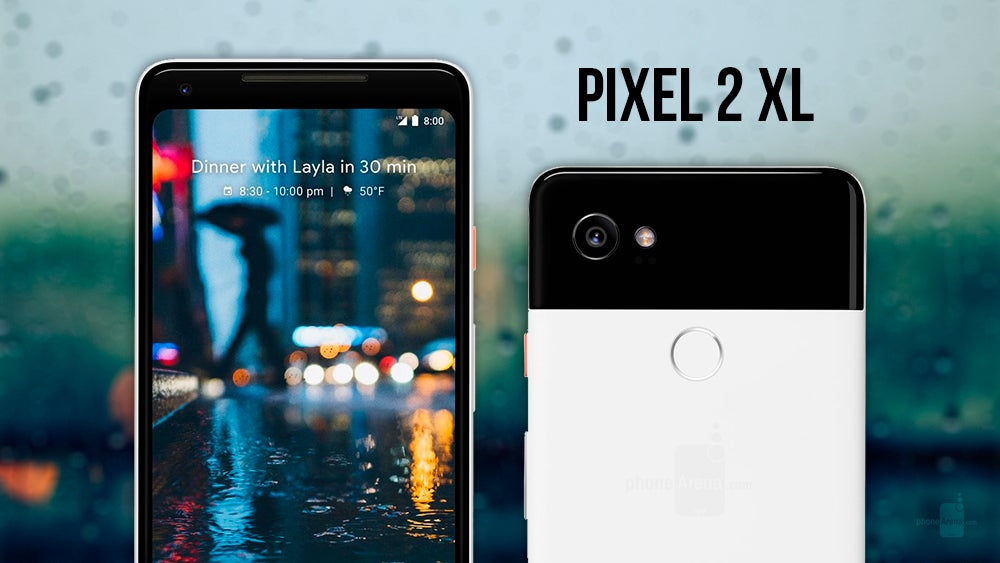 Last year, Google launched its first in-house developed smartphones that would replace the Nexus brand and become some of the best Android smartphones money could buy – the
Google Pixel
and
Pixel XL
. Stacked with the latest in hardware and excellent cameras to match, the two phones quickly gained traction and popularity in the Android world, despite some drawbacks, such as the lack of waterproofing on both and their not-so-cutting-edge designs.
This is now changing, however, as Google just announced this year's successors to the Pixels – the
Google Pixel 2
and
Pixel 2 XL
. And while the sequel to last year's 5-incher retains much the same form factor and all-around design as its predecessor, the Pixel 2 XL is Google's take on the recent trend of thinning bezels and elongating displays.
Google Pixel 2 XL: high-end tech in an elegant enclosure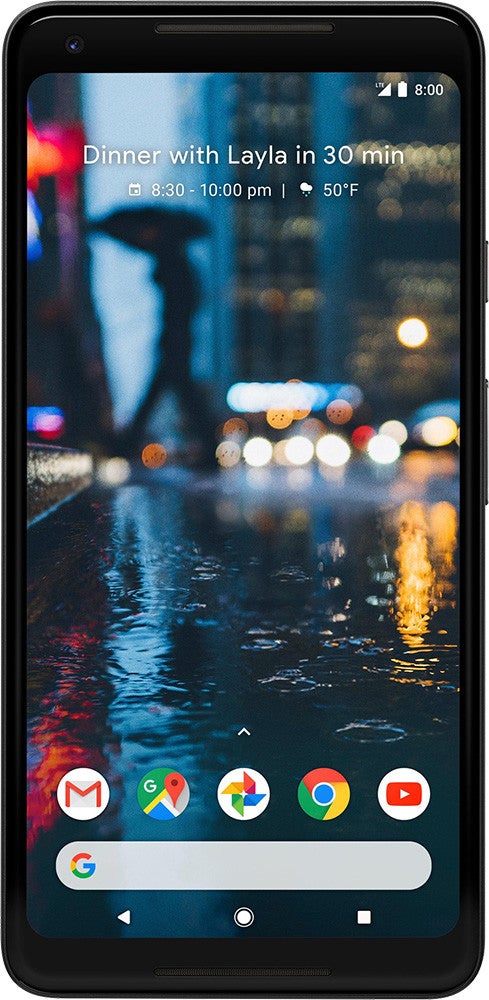 With its 2017 flagship lineup, Google is covering all bases. It offers a smaller, more traditional-looking phone for those who are not ready to embrace the bezel-less future just yet, while also catering to all the "futurists" with a device that follows the latest trends in smartphone industrial design (read, tall display and slim bezels). Ditching the standard 16:9 aspect ratio of years prior, the Pixel 2 XL sports a beautiful 6-inch OLED display with a native resolution of 1440 x 2880 and an aspect ratio of 18:9, akin to those found in the LG G6 and more recently the LG V30.
Speaking of LG phones, the Pixel 2 XL features a 3D Arc Glass display and sports a design that's somewhere in between the LG G6 and the Galaxy S8 Active, as far as the front panel and bezel thickness are concerned. However, the Pixel 2 XL is thinner than either and also makes good use of its top and bottom bezels by introducing front-facing stereo speakers, with the one on top doubling as an earpiece.
Around the back, the Pixel 2 XL retains the dual-material design aesthetic of its predecessor, sporting a metal-and-glass back panel, although it spices things up with a dual-tone color scheme. Google has also reduced the size of the glass plate for this year's lineup, leaving the rear-mounted fingerprint scanner surrounded by metal. The glass portion of the back now houses a more prominent-looking single camera than last year's model, coupled with an LED flash module next to it, as well as two "dots" beneath, which house the transmitter and receiver for the laser autofocusing system.
No corners cut when designing this year's Pixels
Under the hood, the Pixel 2 XL is no slouch. It's far from it, in fact, as it is powered by Qualcomm's latest
Snapdragon 835 CPU clocked at
2.35 GHz and coupled with a powerful GPU in the form of the Adreno 540, with 4GB of fast LPDDR4X RAM on the side. Yes, the phone doesn't come stacked with tons of RAM like some of its competition, which may be disappointing to certain audiences, but it should be more than enough to ensure a buttery smooth user experience, considering its running pure Android. The phone is also equipped with a 3520 mAh battery, slightly larger than last year's 3450 mAh battery that powered the Pixel XL.
Dustproof and water-resistant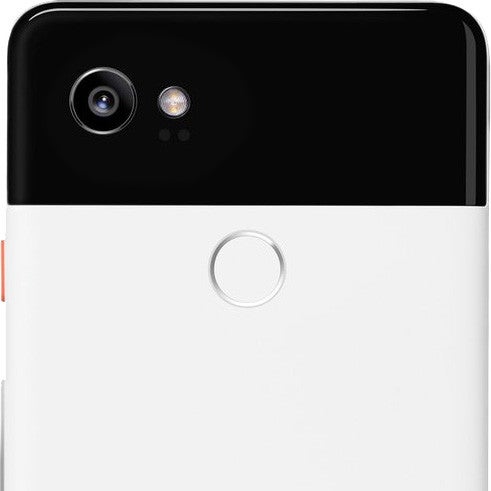 The Pixel 2 XL features a dual-tone design on the back and a colored power button
Last year's Pixel models did not feature any form of water- or dust-resistance, because Google had been working on the designs for quite a while, before
scrapping everything
toward the end of 2015 and start from scratch, leaving engineers a mere 9 months finish work and be ready for launch. Given this time constraint, Google naturally had to cut some corners, and one of the compromises it decided to make was to not make the Pixels resistant to the elements. This changes with the Pixel 2 and Pixel 2 XL, however, as both are IP67-certified, meaning they are dustproof and water-resistant, so they can withstand some light showers and uh... some mud-diving?
No headphone jack, new wireless earbuds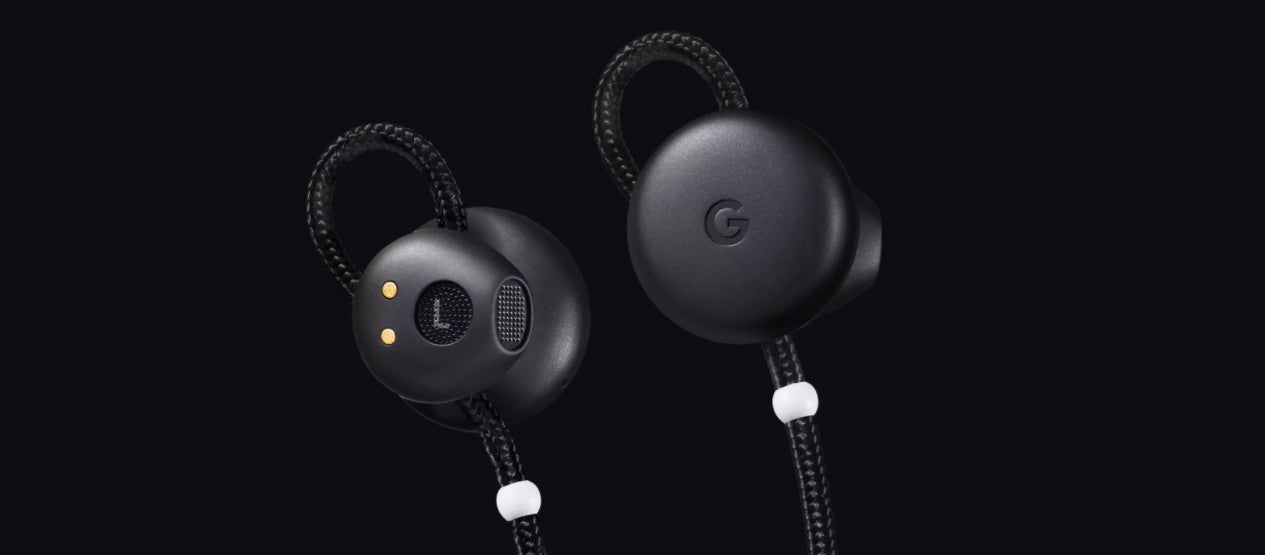 It's a bit strange, considering how Google last year took a
jab at Apple
for removing the 3.5mm jack in the iPhone 7 and 7 Plus, but this year's crop of Pixel phones do not offer this commodity either. Instead, Google has decided to go the wireless route and has developed its own wireless earbuds, called Pixel Buds. Cute. Promised battery life for the buds is 5 hours, 24 hours in the case. The Pixel Buds start at $159 and will be available for shipping in 6-7 weeks.
Squeeze for fun help
Similarly to the HTC U11, the Google Pixel 2 XL will have squeezable sides, meaning that you'll be able to launch Google Assistant by giving your phone nice squeeze. We don't know yet whether this feature will offer some sort of customization freedom to users, as was the case with HTC U11, but we do hope that we would be able to assign app/action shortcuts to it. We don't need
yet another
way to launch assistant. Squeeze remains active when the screen is off and can also be used to silence incoming calls.
New and improved camera with portrait mode, unlimited Google Photos storage
The Pixel 2 XL features a single rear-facing camera with 1/2.6-inch 12MP sensor, an f/1.8 aperture, OIS, and Dual-Pixel Autofocus. Google is further pushing the HDR+ with the new Pixels, promising improved dynamic range and more accurate color reproduction. Furthermore, the new phones will be capable of simulating a shallow depth of field effect for taking portrait photos, as is the current trend, but employing only one camera. How's that possible, you may ask? Well, almost entirely through software! It certainly
isn't impossible
, but we're yet to see how well this works for ourselves. When shooting video, the Pixel 2 XL will use both digital
and
optical image stabilization to ensure the smoothest results possible. Google is also sweetening the deal for future Pixel 2 owners with free unlimited Google Photos storage for full-resolution photos and 4K video.
Pure Android 8.0 Oreo out-of-the-box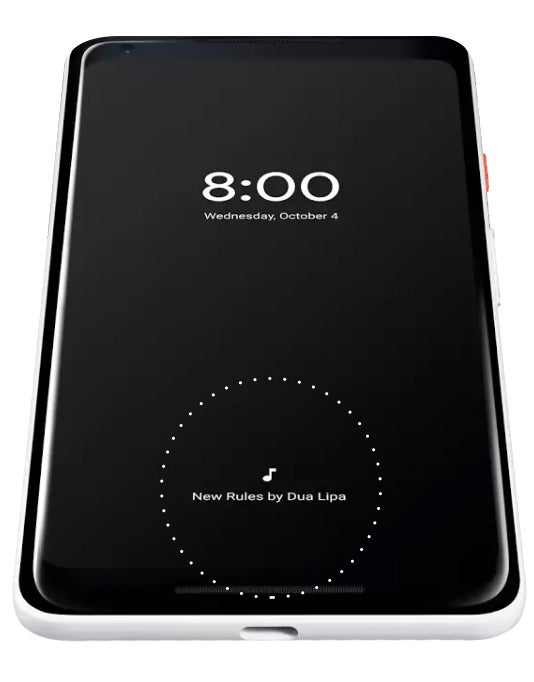 Always-on music recognition on the Pixel 2 XL. The new feature is called "Now playing" and works in the background
As was expected, both the Google Pixel 2 and Pixel 2 XL run
Android 8.0 Oreo
out of the box – the latest iteration of Android. The Pixel launcher home screen has also seen a redesign, with the search bar now at the very bottom, instead of at the top of the display, which should facilitate for more easily interacting with it, especially on the 6-inch Pixel 2 XL. Other than that, reminders will now appear right on your homescreen in the form of a "at a glance" widget, accompanied by weather information. Other noteworthy Oreo features that will be available on the second-gen Pixels include notification dots and picture-in-picture mode, but the new flagships will also have a new "Now playing" feature, which is basically Shazam on steroids. What it does is it's constantly listening for music playing in the background while the phone is locked and will display the name of whatever song is playing right on the always-on display.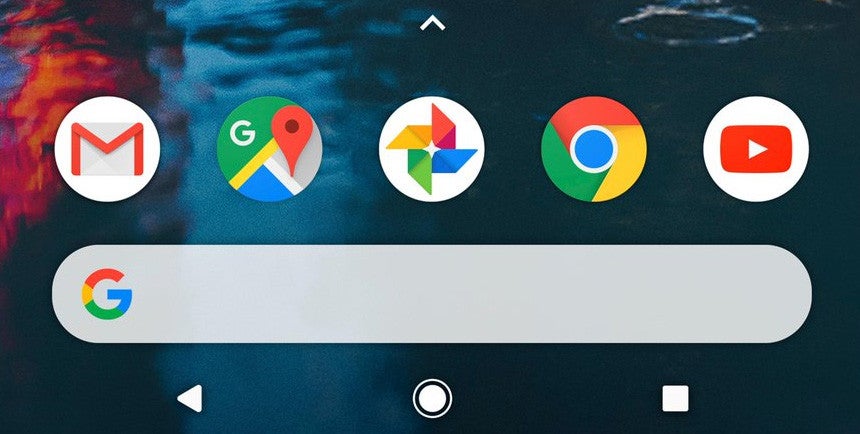 The dock now houses the Google search bar, whereas the top of the screen is occupied by a new reminders and weather widget. There's also no translucent background to the dock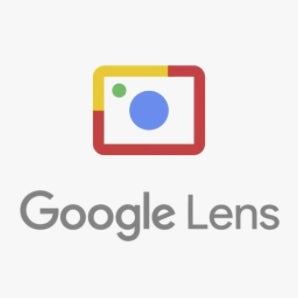 The Pixel 2 and Pixel 2 XL are also the first phones to get access to Google Lens – a new image recognition feature designed to display helpful information based on what you point the camera at, similar to what Samsung is trying to do with Bixby Vision. Google Lens is accessible via a new button both in the camera app and in Google Photos on the new Pixels. The capabilities of Lens are somewhat limited at this point, but Google is promising that they will expand in the coming months.
Price and release date
The Google Pixel 2 XL is available for pre-order now and will ship within 2-3 weeks. Pricing starts at $850 for the 64GB version and $950 for 128GB model. Google's also running a trade-in program, where it'll refund you up to $410 on a Pixel 2 purchase if you trade in your old Pixel smartphone. Both phones are available in Australia, Canada, Germany, India and the U.K, while the Pixel 2 XL will launch in Italy, Singapore and Spain later this year. In the U.S., Google is teaming up with Verizon and Best Buy to make the new Pixels available nationwide. Of course, you can also snag one from the Google Store online.
RELATED STORIES: