Google adds Live Captions to Hangouts Meet, but only on Android
0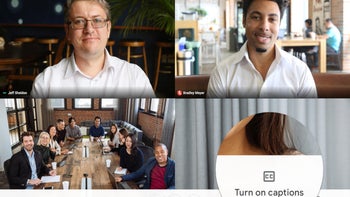 The
Live Captions
feature was showcased earlier this year at Google I/O, but the search giant didn't provide a release roadmap. With Live Captions, video calls are made more accessible by reducing the barriers to holding meetings between users of different hearing abilities, no matter if they participate in person or remotely.
blog post
. The new feature is only available on Android devices, but Google confirmed Live Captions will be rolled out to iOS and on the web very soon.
If you're using an Android device, you can now tap the closed captions button on the top right of the Hangouts Meet app when you're in a meeting. For the time being, Live Captions is only available for English language users.
Keep in mind that when Live Captions is enabled, they will be visible on that particular device, which means that any participant in the meeting must turn on captions from their devices to see them as well. It's also worth mentioning that Live Captions will not appear in a recording of a meeting.
According to Google, Live Captions is rolling out to Android devices starting today, but it could take a few weeks to become available to all
Hangouts Meet
users.