Google Earth now available in Android Market with one major catch
This article contains unofficial information.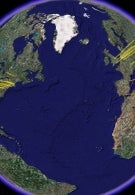 Google Earth, previously available as an app for the iPhone, is now sitting in the Android Market. The only problem is that the download will only work on phones running Android
2.1
or higher which boils things down to the Nexus One. Of course, a number of Android models will eventually be sporting 2.1, but the pace of upgrading seems to be going from slow to slower. The Motorola DROID should be the next to have the 2.1 OS, but that is another story for another day.
Google Earth was displayed at the just ended MWC by Google CEO Eric Schmidt who used a Nexus One, of course, and allows the user to see specific places but also will show terrain and borders and will link to Wikipedia and show user-submitted pictures of locations. The app will let you take a look at the Ocean floor and view historical images from around the world. You will be able to see buildings in 3D and view galaxies in Outer Space. Google Earth is a free download
source:
InformationWeek