Google Earth can now measure the distance between two points and calculate the area of a block
2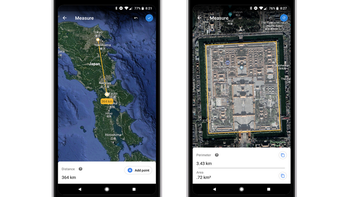 Google Earth is a great tool that allows you to take virtual vacations to locations that you've always wanted to visit. In some locations, New York's Times Square for example, you can actually kill some hours by pretending to walk around the area. Granted, you need a good imagination, but it is a fun way to kill off some time. Thanks to a new measuring feature being added to Google Earth, you will soon be able to measure the distance between any two points, and also find out the area of a certain block of land.
The new feature is being made available today on Chrome, later this week for Android users, and soon will be added to the iOS version of Google Earth. Google notes that the ability to measure distance and areas has been one of the most requested features for Google Earth.
If you don't have Google Earth installed on your Android or iOS device, you can do so by clicking on the appropriate link: (
iOS
|
Android
). We should warn you. Once you install Google Earth, you'll think of so many places to "visit" that you just might not get your work done.