Google Docs Android app updated, looking beautiful on Honeycomb tablets
2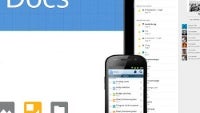 Google rolled out an Android application for its
Google Docs
web service and since then it has been actively working on not only changing the layout for the web version of Docs, but also its Android version. The latest update brings
entirely new visuals
to the app. It comes with a three-pane layout for Honeycomb tablets, lists of documents, collections and document previews.
The panel on the left displays a preview of the documents you've selected but it also gives a quick peek at the people who have access to that exact document. The app now looks very mature with nice little touches like autocomplete in forms. The new features come translated in more than 46 languages.
Hopefully, this marks the beginning of the complete transformation of Google Docs and an update for the phone version will come soon. Feel free to check out our
review of Google Docs for Android
, penned in April when the services first arrived on the Market.