Google Docs for Android Review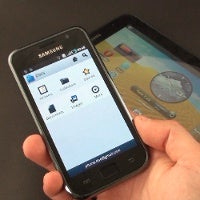 Google is famous for many of itsproducts being in a nearly perpetual beta state. Come to think aboutit, Gmail was in beta for what seemed an eternity before Googledecided to finally push it into a final version along with GoogleCalendar, Talk and... Google Docs. But while we have native Androidapps for Gmail, Calendar and Talk, Google Docs was the only one leftaccessible exclusively through your browser. Yesterday it allchanged. Kind of.
Google Docs went native for Android forthe sweet price of zilch dollars and we took it for a spin to see ifit can manage to address the even more perpetual problem of a freeoffice suite for smartphones and tablets. To put it in a nutshellright from the start: it doesn't, but it's a big step towards it.
does
:
1. give a native shell to acloud based service.
2. support text document andspreadsheet viewing and editing. Powerpoint presentations canonly be viewed.
3. add text-recognition from images.It's not the most accurate you can get, but it's a start.
4. support multiple accounts.
5. allow quick and easy sharing.
Itdoesn't:
1. allow you to download documentslocally. That means that you absolutely need to have anInternet connection to access your files.
2. allow deleting files.
3. update spreadsheets withformulas when you enter new data.
4. offer any kind of passwordprotection.
Google Docs for Android grants youviewing and editing texts and spreadsheets, but that redirects you tothe mobile website, so offline editing is a no-go – you must havean Internet connection to access your docs. Hopefully, this willchange in future versions as the application states that it keepscache of up to 150MB, but it's the biggest drawback of the appcurrently – basically turning it into a little more than a wrapperfor the mobile website. And dealing with the Google Docs website whenviewing or editing unfortunately translates into sluggishness of thewhole process.
optical character recognition (OCR) software
thatcomes bundled in the app. A rather intelligent algorithm extractsprinted text from an image so you can easily manage and edit it onthe go. It's not perfect in any way (printed text from the web wasoften interpreted incorrectly replacing various characterslike "l" or ":" with "i" for once), but it might be aworthy alternative to scanning for printed text if you invest sometime in editing afterwards.
Finally, while it's far from afull-fledged office suite replacement mostly because of thesluggishness of the web interface, it's a start and a promise.If Google manages to update the app with a quick and intuitive nativeoffice client, Android can claim one serious advancement over all therest operating systems out there.
Download: Google Reader on Android Market