Google Currents gets updated - Google is on a "simple-beautiful" update tear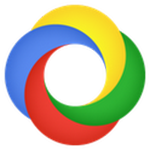 Google Currents
, a
Flipboard
-like webzine app for Android and iOS, got an update to version 1.1 today. For international readers the biggest news is that Currents is now available world-wide, and will auto-translate content into 44 different languages. There are also important performance gains to content downloading and offline reading. Here is the new features list:
• Instant sync while online - No need to press a sync button for updates. Just open an edition and latest content is automatically available.
• New offline reading options - Choose your favorite editions to have images available offline.
• International support - Google Currents is now available worldwide, translated into 44 languages.
• Google Translate - Translate complete editions from the "goto" menu to your preferred language.
• International trending - Local trending stories provided for US, FR, UK, DE, IT, ES, JP, AU.
• Google+ sharing - Share to select Google+ circles.
• Customize sharing options - Choose which sharing services to present in your share menu.
• Read it Later support - added Read it Later as an additional sharing option.

What we think it is interesting is how much Google is speeding up the updating and integration of what had been separate products. The
brand new Google+ UI
we told you about earlier is not only designed to improve engagement with their social network, but it further integrates YouTube and video hangouts – interesting since YouTube Live (a service that lets channel partners stream live content) also saw major updates this week, and we suspect both services share some of the underlying video-streaming backend.
What used to be Picasa web albums is now totally integrated into Google+, and Google Currents now allows sharing from to Google +. With
Google Drive
expected soon (though clearly not the
first week of April
), it would seem that last month's changes in privacy policy were needed to allow all of these services that are now rolling out.
The "see other device's tabs" feature of
Chrome for Android
has now spread to beta users of the desktop version of Chrome, and it will be very interesting to see what update come to the mobile Google+ apps (presumably in the near future). With the possibility of a "
Google Play
" branded Android tablet to match the
rebranded store
, it appears that
Larry Page's vision
of a "single, simple, beautiful Google experience" is being realized faster than anyone expected.
Sources:
App Store
,
Play Store