Good Morning America to give away 40 BlackBerry Priv units tomorrow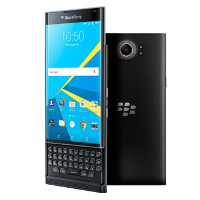 Want to win the
BlackBerry Priv
? To celebrate Good Morning America's 40th anniversary as ABC-TV's morning news show, 40 units of the BlackBerry Priv will be given away to audience members on Wednesday. The manufacturer's first Android powered handset was introduced to the GMA audience on Tuesday by weather anchor Ginger Zee (see video below).
BlackBerry COO Marty Beard will make an appearance at the studio to help select the lucky winners. If you plan on attending, better set the alarm on your
BlackBerry Bold 9930
really early, because the show starts at 7am ET. Good Morning America broadcasts from the media center of the media center of the word. That would be Times Square in New York. The exact address is Broadway and 44th Street.
In the U.S., the phone is available unlocked from BlackBerry, and from AT&T.
Verizon has thrown its red check mark in
, and says that it will be offering the phone soon. Good Morning America has focused on smartphones lately. Last week, it dropped the
Apple iPhone 6s
, clad in a waterproof case, into a tank of water to see if it would survive (it did). GMA also broadcast live as the
Motorola DROID Turbo 2
's shatterproof screen
was tested from 10 feet
(it survived).
Now, you just might walk out of the GMA studio tomorrow with a free BlackBerry Priv. What a good morning that would turn out to be!
source:
BlackBerry