Motorola DROID Turbo 2 goes through a live drop test on Good Morning America
24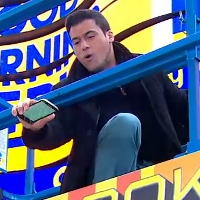 While most PhoneArena readers in the U.S. are familiar with the concept of performing a drop test on a new phone to check its durability, for most Americans the idea of purposely dropping an expensive smartphone on a hard surface seems crazy. But with the
Motorola DROID Turbo 2
, the manufacturer's claim that the
5.4
-inch screen is "shatterproof" almost demands that a drop test be done before a national television audience.
This morning, ABC-TV's
Good Morning America
had a segment on protecting your cellphone's screen. According to the show, Americans have spent $24 billion repairing a broken screen on their handsets since 2007. The two most common reasons for requiring a screen repair on a smartphone are water damage, and a drop.
As part of the show, two Apple iPhone units were each dressed up in a waterproof case and dropped in a tank of water. The cases did their job and prevented the two phones from getting damaged. The highlight of the show was a live drop test done outside the GMA studio in Times Square. With a Motorola official looking on, a DROID Turbo 2 was dropped five-feet, the highest drop from which the manufacturer promises that its ShatterShield technology will protect the display. A second DROID Turbo 2 was dropped from ten feet, a good five feet higher than the distance that Motorola says the screen is protected for.
Did the DROID Turbo become a star on national television, or did it have its dreams, ahem, shattered? See for yourself by clicking on the video below.
source: ABC