Galaxy Tab S2 vs iPad Air 2 vs Xperia Z4 Tablet specs comparison
37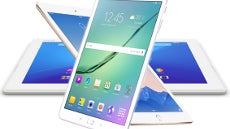 Samsung just put the slumbering tablet competition into overdrive, releasing the world's thinnest tablets, the
Galaxy Tab S2 8.0
and Samsung
Galaxy Tab S2 9.7
, each measuring the incredible 5.6mm thin, and weighing just 265g and 389g, respectively. Those two will be competing directly with slates that are a bit thicker, but no less impressive, like Apple's
iPad Air 2
and Sony's Xperia Z4 Tablet.
This is why took a look at what the S2 9.7 has to offer, comparing it head-on with Apple's and Sony's finest for the moment, as these are the three tablets people are likely to be musing over in the coming months when in the market for a slate. Designwise, the trio of tablets looks exquisite, with the Samsung and Apple slates donning a metal body, while Sony keeps things soft and touchy. The
Xperia Z4 Tablet
has one very important reason not to go the aluminum alloy way, though, as it is IP68-certified for watching movies in the bathtub, while the metal-clad slates can't brag with any extra waterproofing to speak of.
The overall dimensions of the Samsung and Apple tablets are strikingly similar, save for the thinner chassis on the Tab S2, while Sony has the tallest slate. Granted, it is hosting the largest screen of the bunch, too, but that's not the only reason, as the worst screen-to-body ration of the trio shows that Sony has gone with thicker bezels, compared to the other two, to make holding its tablet more comfortable.
For that matter, the Xperia Z4 Tablet has a much higher pixel density than the other two, with its 2560x1600 pixels screen. Not only that, but Sony has equipped it with one of its power-sipping, yet ultrabright panels, making the display on the Xperia tablet the best of the bunch in these two important aspects. When it comes to the silicon inside, all three are capable warriors, with Apple's desktop-grade A8+ chipset taking the cake from the Exynos 5433 in the Tab S2 and the Snapdragon 810 in the Z4 Tablet, and eating it with much better benchmark scores. Samsung and Sony are more generous with their internal storage allotments, plus they offer microSD slots for expansion.
Last but not least, Sony claims 17 hours of video-watching on a charge, and, considering what it does with its phones now, consistently placing them in our top battery life ranks, we'd wager to bet that the Z4 Tablet bests both the iPad Air 2, and the Galaxy Tab S2 when it comes to endurance on a charge. Which one is your favorite so far, given that they are all hitting very similar price points when storage amounts are evened out?
Oleophobic coating, Ambient light sensor
Oleophobic coating, Scratch-resistant glass, Ambient light sensor
Scratch-resistant glass, Ambient light sensor
Apple A8X
Qualcomm Snapdragon 810 MSM8994
Samsung Exynos 7 Octa 5433 (20 nm)
Triple-core, 1500 MHz, Cyclone, 64-bit
Octa-core, 2000 MHz, ARM Cortex-A57 and ARM Cortex-A53, 64-bit
Octa-core, 1900 MHz, ARM Cortex-A57 and ARM Cortex-A53, 64-bit
PowerVR GXA6850
Adreno 430
Mali-T760 MP6
iOS (13.x, 12.x, 11.x, 10.x, 9.x, 8.x)
Android (7.1 Nougat, 7.0 Nougat, 6.0 Marshmallow, 5.0 Lollipop)
Android (7.0 Nougat, 6.0 Marshmallow, 5.0 Lollipop)
Qualcomm Quick Charge 2.0
24.00 hours
the

average

is 0 h (0 min)
42.5 days (1020 hours)
the

average

is 0 days (0 h)
34.00 hours
the

average

is 0 h (0 min)
43.3 days (1040 hours)
the

average

is 0 days (0 h)
42.1 days (1010 hours)
the

average

is 0 days (0 h)
Single camera
Single camera
Single camera
8 MP (Autofocus, BSI sensor)
Aperture size: F2.4; Focal length: 31 mm
1920x1080 (Full HD) (30 fps), 1280x720 (HD) (120 fps)
1920x1080 (Full HD)
2560x1440 (QHD), 1920x1080 (Full HD), 1280x720 (HD), 640x480 (VGA)
H.264, MOV
MPEG4, H.263, H.264
Time-lapse video, EIS, Video calling
EIS, Video calling, Video sharing
9.45 x 6.67 x 0.24 inches (240 x 169.5 x 6.1 mm)
10.00 x 6.57 x 0.24 inches (254 x 167 x 6.1 mm)
9.34 x 6.65 x 0.22 inches (237.3 x 169 x 5.6 mm)
15.41 oz (437.0 g)
the

average

is 16.3 oz (464 g)
13.86 oz (393.0 g)
the

average

is 16.3 oz (464 g)
13.83 oz (392.0 g)
the

average

is 16.3 oz (464 g)
Back: Aluminum
Back: Stainless steel
Back: Metal
Fingerprint (touch)
Fingerprint (touch)
Touch sensitive control keys