Samsung Galaxy Tab S2 9.7-inch Review
55
Introduction
High-end Android tablets are becoming few and far between, indicating to us that the tablet segment in general has been seeing a slowdown. Most consumers seem to be more gravitated to either picking up a low-cost laptop hybrid, or the many inexpensive tablets that pack reasonable value for the money. On that note, it's no surprise to us that many companies have stopped production and development for high-end tablets on the Android side. And then there's Samsung!
If there's one company you can count on for that, it's no other than Samsung, because seriously, they absolutely love to get their presence everywhere. Although we've waited more than a year at this point, we're seeing a successor to its popular and premium Galaxy Tab line. With the
Samsung Galaxy Tab S2 9.7-inch
, they're ensuring that they'll remain relevant, as this full-size offering packs a dose of premium tablet goodness in such a svelte package.
The package contains:
Samsung Galaxy Tab S2 9.7-inch
microUSB cable
Wall charger
Quick start guide
Safety & warranty documents
Design
It's so lightweight and comfortable to use, you'd hardly know that you're using a tablet.
Dramatic changes have come to this new tablet, as it totally sports a new design that actually follows after the
Galaxy Note 4
's design language. That's evident in how it employs a thin metal trim accent around its edges with a matte plastic chassis, which combine together nicely to give it a more appealing design than last year's model. We can tell that it's been designed to compete against the
iPad Air 2
, just because it trims off a lot of the fat to come up being skinnier, lighter, and having a smaller overall footprint than its rival. And it helps, too, in making it comfortable to use with one hand thanks to its feather-like weight – to the point that we have no discomfort holding it for a period of time.
One new, notable change is that Sammy opted to go with a portrait-style layout, as opposed to the landscape orientation of last year's
Galaxy Tab S 10.5-inch
. And finally, we also find the same two dimples on its back to accommodate various covers and accessories made specifically for it. While we applaud the updated design, one that makes marked improvements over its predecessor, it doesn't reach the same kind of premium craftsmanship we get from the iPad Air 2 – albeit, it's surely one of the best-looking, new Android tablets around right now.
Like many of Samsung's newer products, it now features the newer fingerprint sensor, used by devices like the
Galaxy S6
and
Note5
, so that it's less of a hassle to operate than before. Gently resting our finger over the home button unlocks the tablet, which is considerably better than the frustrating swipe down motion that was implemented by its predecessor.
Becoming a consistent practice of Samsung of late, the Tab S2 9.7-inch ditches the IR blaster altogether, indicating to us that it's going to be a common thing going forward. That's a shame to tell you the truth, seeing that the tablet also centers on multimedia consumption at home, so the lack of an IR blaster lessens its value by some degree – more so to those who religiously used it.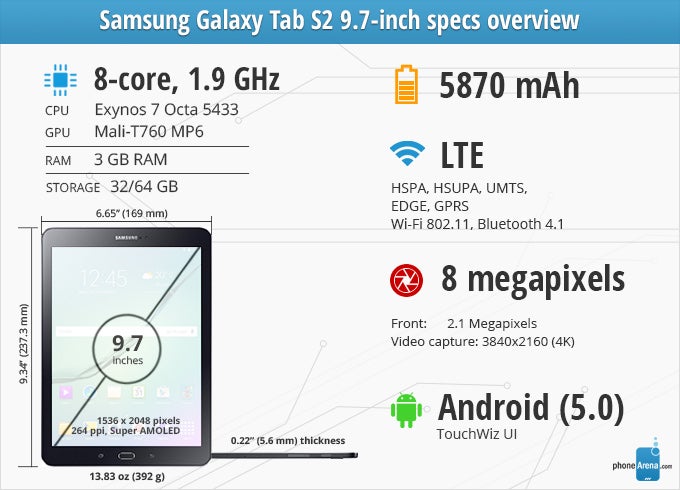 Display
Oddly, the resolution is a step below its predecessor, but it's still a generally good looking display.
An odd gesture from Samsung, a company that's known to always outclass its previous efforts in the specs department, they've decided to fashion the Galaxy Tab S2 9.7-inch with a lower resolution display. This time around, it's flaunting a 4:3 aspect ratio with its 9.7-inch 1536 x 2048 Super AMOLED display – whereas with the Tab S 10.5, it offers a widescreen format 10.5-inch 2560 x 1600 Super AMOLED panel. Even though there's still a great deal of detail produced by it, thanks to its 264 ppi pixel density, it's technically still not as pixel dense than Samsung's previous effort.
There are improvements made to the screen's quality, evident by its better ~6600K color temperature and color reproduction accuracy. Starting with the former, it betters the substantially colder ~7000K color temperature of its predecessor, which gives the screen an even more balanced tone – so it's neither too warm nor cold. To no one's surprise either, Sammy definitely knows how to produce an accurate screen – giving it that true-to-life representation, as opposed to the slightly saturated tones from before.
Another area that takes a step back, especially for Sammy, is seen in how the screen emits a lower luminance. In this particular case, it maxes out at a meager 375 nits, which poses trouble when it's used outdoors with the sun's presence glaring down on it. By comparison, the Galaxy Tab S 10.5 fared a bit better at 395 nits. While it's a fact that the screen is a step backwards from its predecessor in certain areas, it's still a pretty good looking panel! There's enough iridescence, wide viewing angles, and brilliance to make it a compelling visual treat to the eyes.
Display measurements and quality
Recommended Stories