Galaxy S9 pops up on short video. Hey there, beautiful!
60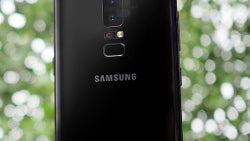 The
Samsung Galaxy S9
and
Galaxy S9+
are right around the corner. Not only is it assumed that they would be announced at MWC 2018 in February — this has actually been
confirmed by a Samsung bigwig
.
And we have a fairly good idea of what the phone's going to look like. Assuming that Sammy hasn't pulled a massive prank over the rumor mill, we've seen leaked schematics, parts, various information, and subsequent fan renders have given us
a pretty good idea
of how it's going to look.
Now, we get to see a video, admittedly taken with a potato cam. It's called "Galaxy S9 Touch sensitivity test", which makes us think its a sneak peek at the testing portion of the actual product line. The fact that it's a video means that we are definitely looking at a phone that exists, not a Photoshop mockup.
The video is short and most of the phone's top remains cropped, but we can definitely see the design that has been leaked numerous times before. It looks a lot like the Galaxy S8, but refined further, with an even thinner "chin".
Basically, the Galaxy S9 is expected to look close to the
S8
, with minor improvements, such as placing the fingerprint scanner in the "proper" location. That's certainly not a bad thing as the Galaxy S8 still looks like a fresh, futuristic design even by today's standards and doesn't feel outdated one bit.
source:
SlashLeaks