Samsung Galaxy S9 and S9+ rumor review: Specs, design, features, price and release date
39
We know, it's rather hard to realize that the Samsung Galaxy S8 and S8+ are already a year old - announced at MWC 2017, these two still look as forward-thinking and futuristic as it gets. Yet, all kings and queens have to relinquish their thrones, which will happen to the Galaxy S8/S8+ in a few months' time as well.
The newcomers? Well, it doesn't take a genius to know that the Galaxy S9 and S9+ are about to supersede Samsung's current flagship stock, and given our general impression with Samsung's current flagships, it's definitely hard to NOT get excited about next year's Galaxies.
Rightly so, and here's what we know about these so far:
Contents

:



Design
To put things bluntly, the Galaxy S9 is not expected to usher in a whole new design.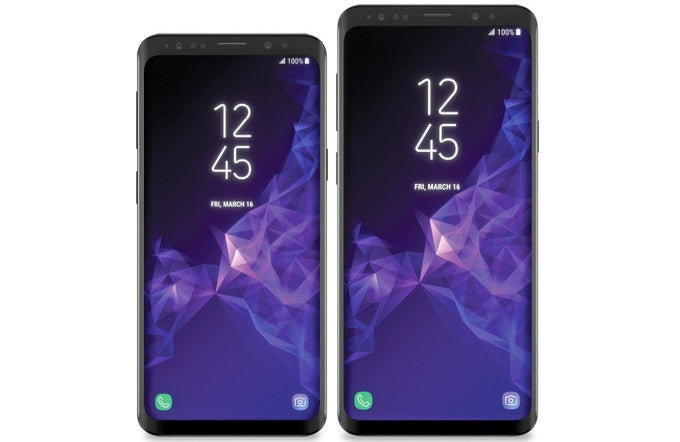 Leaked Samsung Galaxy S9 and S9+ renders
"Same old, same old" is not always bad
Unsurprisingly, the overall bezel-less aesthetics will most likely remain rather similar to what we saw with the Galaxy S8 and S8+. Come to think of it, this is pretty sound and logical given that Samsung really outdid itself with the overall appearance of its flagship. The Galaxy S9 and S9+ will most certainly combine glass and aluminum in a premium, nicely-crafted sandwich. As curved glass up front is now a signature of the company's high-end devices (seen on the Note 8 as well), it's normal to expect such a display from the S9 and S9+. We expect that the rear glass will also remain nicely curved toward the aluminum frame of the handset, as this design approach not only looks exquisite but also makes the handset feel extremely nice in the hand.
One recurring theme about 2017 was "bezel-less" design, and both the Galaxy S8 and S8+ were among the pioneers of this new trend that took the scene by storm. This design is going nowhere, but will most likely get perfected with each subsequent generation. Thus, the Galaxy S9 and S9+ could potentially slim those bezels further still and improve on the high screen-to-body-ratio established by the Galaxy S8 and S8+, though not doing that won't be a bad move either. Yes, bezels are dying a horrible, horrible death, and you will have to learn to love this new trend.
With that said, the devices have already leaked in their full glory, and this is what they look like:
Disclaimer: The images featured above have been made by PhoneArena and are based on preliminary information about the respective device(s), such as, but not limited to, factory CAD blueprints, live photos of the device(s), and mockups/renders. As such, the images found herein may not be fully representative of the final design of the device(s).
New metal design
Samsung has just filed in a trademark with the (European Union Intellectual Property Office) for Metal 12, which is apparently a new lightweight and durable magnesium-aluminum alloy developed by Samsung itself and already used as the main material on its recent Notebook 9 (2018) laptop. This latest trademark application hints that this new alloy would most certainly be used in other Samsung devices, which, of course, on its own implies that the Galaxy S9/S9+ and likely wearables like the Gear S4. What are the benefits of magnesium versus aluminum alloys though? Although the difference in such overall-light devices like smartphones wouldn't be that much glaring, magnesium is lighter than aluminum and stronger per unit volume at the some time. Those two extraordinary properties of magnesium, the twelfth element in the periodic table (hence Metal 12), have dubbed it "the metal of the future", and it's easy to see why.
Samsung has definitely toyed with magnesium alloys before, reportedly having developed a magnesium Galaxy S7 prototype a few years ago. This did not came to fruition, but it seems like 2018 could be it for Samsung's magnesium dreams. Of course, merely filing for a trademark and having a laptop with the alloy in the works doesn't explicitly mean the Galaxy S9/S9+ and even the Note 9 would definitely be made of the material, but it is a possibility that shouldn't be ruled out at all.

Now, when it comes to the Galaxy S9+, we are all in for a little surprise - for the first time thus far, Samsung is expected to differentiate the larger model from the smaller one in a rather vital aspect. Aside from being, well, larger and having a bigger battery, the Galaxy S9+ is rumored to be having a neat trick on its own - a dual camera like the one on the Galaxy Note 8.
Furthermore, a slew of seemingly official cases for the Galaxy S9 and S9+ also leaked, giving us yet another confirmation at the final design of the anticipated flagships. Check them out right below.
Bixby, water resistance, and audio
Aside from pertaining the overall design of the S8 family, the S9 lineup is also rumored and expected to retain all the features of its predecessors. Water- and dust-resistance of the IP68 variety is most likely sticking around with the goal of shielding the gadgets from any hazardous external elements meddling with the fine electronics inside. The Bixby button, love it or hate it, is certainly staying around as Samsung is obviously quite invested into its take on the smart assistant trend; hopefully, this one will be user-customizable though we wouldn't count on that. The iris scanner is also sticking around, but it's rumored to have a 3MP sensor in contrast with the S8's 2MP one, with the benefit of improved accuracy.
Finally, we heard that one of the key Galaxy S9 features that Samsung will be proud of is... the good old 3.5mm audio jack. In a time when it's cool to ditch the universal audio port for a digital counterpart, Samsung will reportedly shine among the majority of its competitors by still rocking an audio jack in a tightly-sealed and water-resistant body.
Stereo speakers have been mentioned by multiple sources. The device will reportedly use the bottom loudspeaker and the earpiece to produce stereo sound, which is similar to what other devices already do. Overall, a rather big new feature if true.
What about the fingerprint scanner?
So far, we haven't heard anything regarding the fingersprint scanner on the S9 and S9+. It's doubtful that it will be embedded under the display, which is on almost anyone's wishlist at this point, so we are likely going to see a rear-mounted sensor instead. Here's to hoping it's positioned more conveniently than the one on the S8/S8+. Judging by the fairly-recent Galaxy A8 and Galaxy A8+, Samsung might have come to its senses: these two feature a fingerprint scanner right below the camera module, which looks like an awfully more convenient spot for the vital biometric sensor.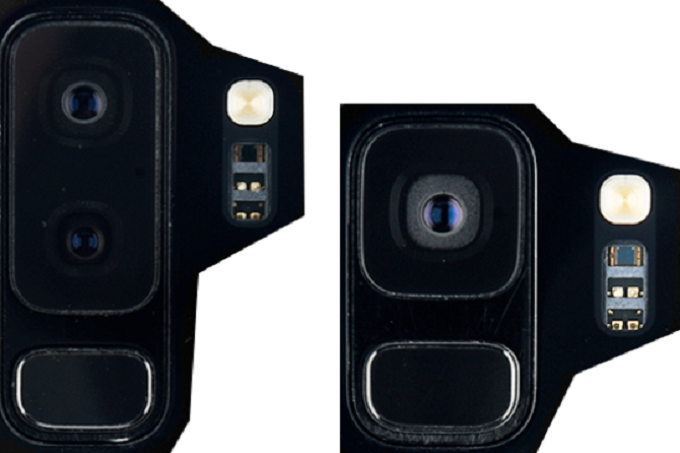 What's the verdict?


Additional rumored features
New DeX multi-purpose dock
According to numerous reports, a brand new DeX dock dubbed DeX Pad will launch alongside the Samsung Galaxy S9/S9+, Samsung is rumored to launch an updated version of the DeX dock. Venturebeat has reported that Samsung is going to be launching the new model with a new form factor to allow the phone to be placed flat, rather than standing up at an angle. Doing so will allow you to easily use the phone as a touchpad, a feature that is already available but which is rather cumbersome to use because of the orientation of the phone. It could also be utilized as a virtual keyboard, reducing the reliance on using 3rd-party peripherals. The new dock will reportedly be backwards-compatible with this year's S8, S8+, and Note8.



Is Samsung betting on AI?
Samsung is close to completing the development of Neural Processing Units (NPU), also known as "AI chips." These components will enhance the abilities of mobile devices and servers to run AI based software. One source says that Samsung has reached the same level for its AI chips that has already been achieved by rival firms Apple and Huawei. The same source believes that Sammy will top its competitors with the AI chips it will be producing in the second half of this year.

With everyone and their grandmothers now betting hard on AI, it makes perfect sense for Samsung to actively explore the field and invest in artificial intelligence itself, not because consumers are pestering for that but due to the fear of missing out the potential "next big thing" in the industry. So far, current AI implementations have delivered minor gains in user experience and we are yet to see a manufacturer do AI right.



Intelligent scan
A fresh new rumor suggests that Samsung could have developed a new multi-purpose security feature for the Galaxy S9 and S9+ that uses both the iris scanner and face unlocking to provide a more convenient way to unlock your device in different conditions. For example, the iris scanner doesn't work too good in really-bright sun conditions, whereas the face unlock feature is unreliable in low light. Using these together could bring the best of both worlds and allow for effortless unlocking in different conditions.

Back to top...
Display
As we said, we don't expect a major shift in terms of design, which also means that we probably won't see an increase in display size on either the Galaxy S9 or the S9+.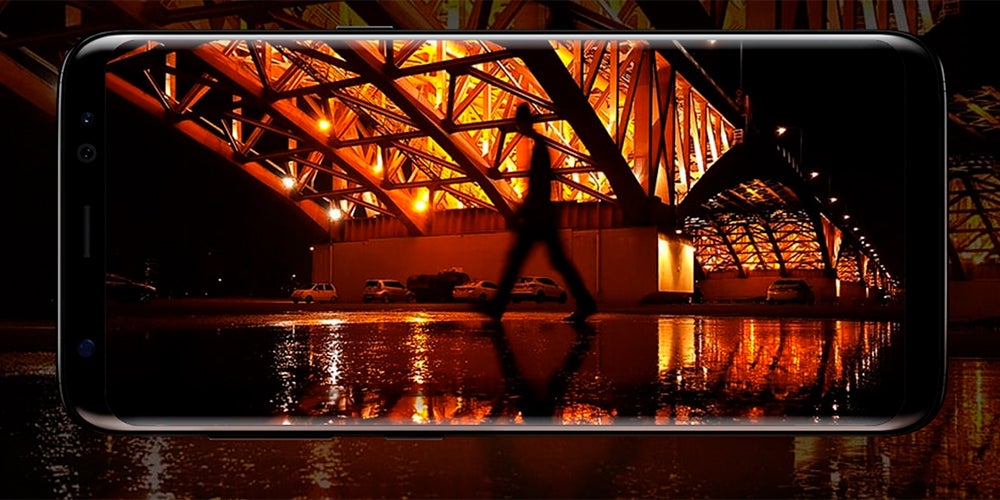 Edge-to-edge and loving it still
Due to the lack of any concrete info, for now we will assume that the next Galaxies will boast the very same displays that made the cut on the S8 and S8+. The smaller S9 will likely feature a 5.8-inch Super AMOLED quad HD display with a resolution of 1440 by 2960 pixels, while the larger one will most likely remain a 6.2-inch offering of the same type and boasting the same resolution. We are also quite certain that the 18.5:9 aspect ratio will be here to stay, and while it's true that most kinds of multi media don't make full use of the display since they're shot in other aspect ratios, such a tall but narrow screen is rather useful to hold and use even with a single hand.
Support for the DCI-P3 and sRGB/Rec.709 color gamuts is also most definitely staying around; the same can be said about HDR. With these on board, the Galaxy S9 and S9+ will continue to be among the best devices for multimedia viewing.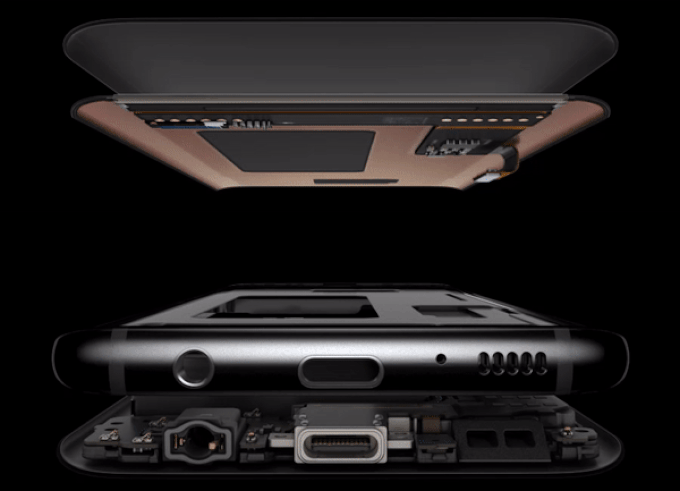 Pressure-sensitive displays are anything but new nowadays, and while there's no indication of the Galaxy S9/S9+ sporting such a screen, there's a chance that such a screen might be employed on the flagship. If anything, Samsung proved it's somewhat open to the idea with the S8's pressure-sensitive home screen area. One of the ways to differentiate the S9 and the S9+ from the S8 family would be to throw in such a functionality inside. What's more, the software support is already there, given that Android Oreo now allows for custom actions and more complex interactions with apps and features. If anyone aside from Apple can do it, it's definitely Samsung.
Back to top...
Camera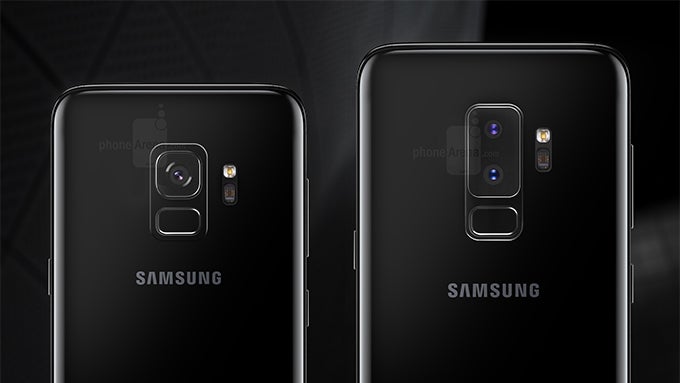 A newly leaked image of what may very well be the retail box of the Galaxy S9 reveals some interesting info about the flagship's camera. In line with previous rumors that the Galaxy S9 and S9+ may be capable of recording slow motion video at 1000fps, similarly to the Xperia XZ Premium, the back of the box suggests that the feature will be branded as "Super Slow-mo." This could be courtesy of a brand new camera sensor detailed by Samsung just days ago, which features a tri-stack fast-read-out sensor that Samsung could very well debut with the S9/S9+. Thanks to it, cameras of upcoming Galaxy devices and potentially the S9/S9+ will be able to focus even faster and more accurately than before. Samsung says the so-called 'Super PD" focus will be able to intelligently "identify the distance of fast-moving objects even in low light for faster and accurate auto focusing". Given how challenging such scenes are for most cameras, props should be given to Samsung for trying to fix an issue that few regular users have gripes with.
What's even more intriguing, however, is the confirmation that Samsung's latest ISOCELL sensors will shoot 480fps slow-mo videos at the acceptable resolution of 1080p Full HD. To put things into perspective, it's merely enough to mention that the Galaxy S8 and the S8+, Samsung's soon-to-be retired flagships, only support 240fps slo-mo at 720 HD resolution: you will get twice the framerate in a much higher-resolution video file.
But even that's not the most impressive new feature. Provided that the sensor is perfectly capable of shooting 480fps videos in 1080p Full HD, then it should be theoretically capable of shooting 960fps slo-mos at 720p HD resolution. Sony was the first to bring a dual-stacked sensor with super-fast 960fps framerate to the market with some of its Xperia devices, but the implementation was quite lackluster and not entirely intuitive - users could only capture a couple of milliseconds of action and never really knew if the camera will record whatever they shot or it would slip away. Hopefully, Samsung's triple-stacked sensor will be able to reduce the duration limitation and allow for longer burst of slo-mo video recording. Remains to be seen, but we are moderately optimistic.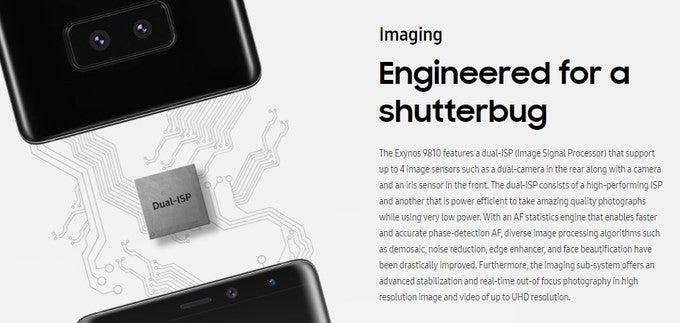 Also, the rumor suggests that the camera will arrive with variable aperture of f/1.5-f/2.4, suggesting that it could fall back to the wider aperture for extremely low-light scenarios and utlra slo-mo videos where lots of light needs to be collected for a short amount of time and the narrower end of F2.4 for most other situations. Also, the Portrait mode of the camera that debuted with the Note 8 could easily make lots of use of that wide aperture by supercharging the quality of the bokeh in portrait shots.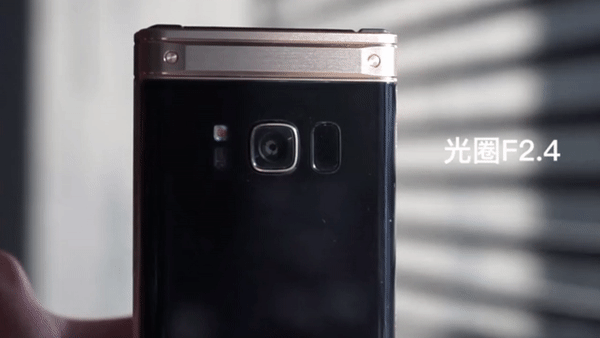 Samsung W2018 variable aperture camera sensor
But why use a variable aperture when a fixed one has been the predominant standard with almost all flagship devices? As our own Milen Y.
explained pretty detailed right here
, once you go as wide as f/1.5 or more, images tend to become extremely soft and lack sharpness due to lens aberrations. However, this is not that much of an issue when shooting in low-light situations, where the ultra-wide end of the camera sensor will be doing its job. Yet, in everyday scenarios with better lighting conditions in tow, the f/2.4 aperture will be doing most of the horse work due to its better sharpness output.
Leaked camera samples
A single camera sample crop allegedly coming from the S9 is trying to tell a story, but we are not sure if it's legit or not. The crop compares the S9 against the S* and depicts a city skyline shot from withing a building, which is usually a recipe for unimpressive dynamic range and overblown highlights due to the way brighter lighting conditions on the outside. Judging from these two samples alone, the Galaxy S9 seems to have a way better dynamic range reproduction than its predecessor as well as better detail rendition to the point where it could be considered vastly oversharpened. As a user on Reddit mentioned, it almost looks as if the Galaxy S9 shot in HDR mode and the Galaxy S8 took the picture with HDR forced off, which seems to coincide with what we see below.
Hardware
Just like its predecessors did with the Snapdragon 835, both the Galaxy S9 and S9+ are currently expected to hoard the full initial supply of Qualcomm's upcoming Snapdragon 845 chipsets. Yes, that's what will most definitely be ticking inside the US & Chinese versions of next year's Galaxies, whereas their international versions are traditionally expected to feature an Exynos chipset by Samsung. In the case of the S9 and S9+, that might be the Exynos 9 Octa 9810 chipset, which is reportedly a 10nm offering headed straight for select versions of the anticipated flagships.
The Snapdragon 845...
Built on a 10nm manufacturing process, which is a similar to the Snapdragon 835, but the all-new SD845 is employes Samsung's LPP technology (Low Power Plus) in contrast with SD835's use of LPE (Low Power Early).
This means the new chip ekes out way more performance at the same rate of power consumption. An Adreno 630 graphics unit is up there to chew through games and other graphically-intensive tasks like augmented and virtual reality. Another exceptional trait of the next high-end Snapdragon could be its modem, which was built with 5G in mind and supports the mind-boggling LTE Cat. 18, allowing it to theoretically top downlink speeds of 1.2Gbps.
Just recently, we got hold of a benchmark revealing the performance on said chipset powering the Galaxy S9 with a single-core score of 2378 and a multi-score tally of 8132. Considering that back in December, the Samsung Galaxy S9+ went through the Geekbench test scoring a similar 2422 and 8351, respectively, it certainly seems plausible that the results below are for the Galaxy S9.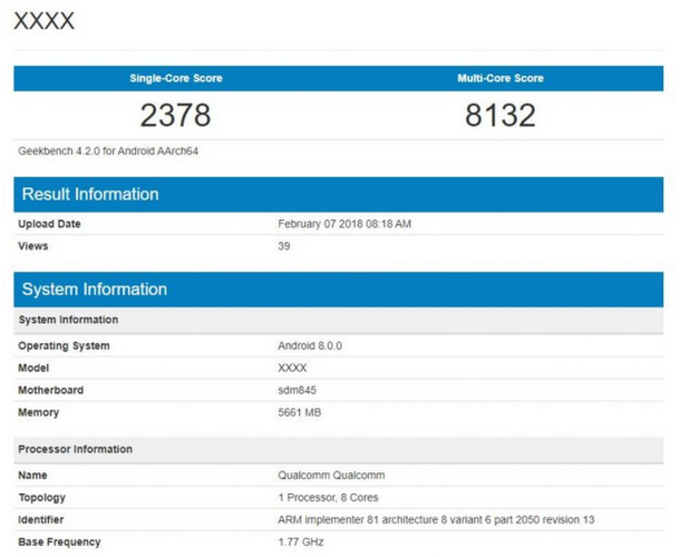 ...And the Exynos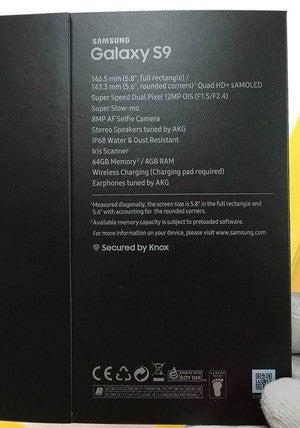 Leaked Galaxy S9 retail box
On the contrary, recent rumors reveal that Samsung's next Exynos could be built on an 8nm LPP manufacturing process, which could theoretically put it at an advantage over the Snapdragon 845 as it might be more efficient and pack more raw performance. That's a recurring theme with Samsung's flagships - their Exynos versions are traditionally more efficient and have generally surpassed their Snapdragon counterparts.
Now, a new benchmark entry on Geekbench seems to be giving us a sneak peek at the performance of the Exynos 9810-powered version of the Galaxy S9/S9+. Surprise, surprise, with a single-core score of 3648 points and multi-core one of 8894 points, it ekes past the Qualcomm Snapdragon 845 which will power the US version of the flagships. According to a previously unearthed benchmark, the Snapdragon version scored 2378 points on the single-core test and 8132 points on the multi-core one.
A rather big difference and a clear win for the Exynos chipset, if true of course!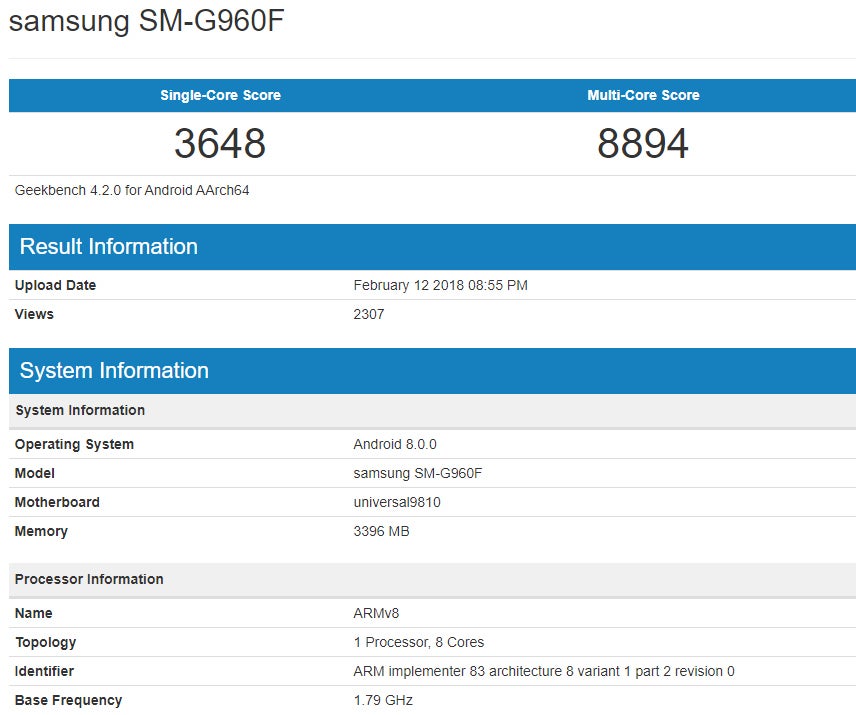 Samsung SM-G960F with Exynos 9810 benchmarked
RAM
It seems that the Galaxy S9 will only be available with 4GB of RAM as Samsung is reportedly looking forward to diversifying its two flagships. Thus, only the larger and supposedly more expensive S8+ will boast more RAM, and as per the rumors, it will feature 6GB for all models. Thus, it will match the Galaxy Note 8 in providing ample amount of memory for multi-tasking endeavors. Meanwhile, the 4GB of RAM on the Galaxy S9 are definitely not lackluster, but they definitely don't feel like it's 2018 yet.
Data hoarding
The rumor claims Samsung Galaxy S9 will be available in two variants: 4GB RAM/64GB storage and 4GB RAM/128GB storage which is kind of standard and expected, but the Galaxy S9+ will be available in the following variations: 6GB RAM with 64GB storage, 6GB RAM with 128GB storage, and 6GB RAM with 256GB storage. A microSD card slot is currently believed to remain an integral part of the Galaxy S9 and S9+, which is great news for data hoarders.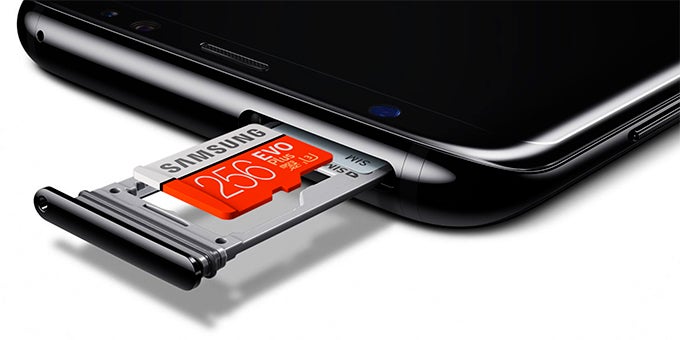 Battery
Samsung doesn't apparently plan on raising the capacity of the battery in each phone, which means that we are probably looking at 3,000mAh for the Galaxy S9 and 3,500mAh for the Galaxy S9+.
Wireless and fast charging are here to stay, but might not be any faster
With wireless charging now becoming more and more mainstream, there's zero reason to believe Samsung will strip this essential functionality from its upcoming devices. This means that it's almost certain the Galaxy S9 and S9+ will come with fast wireless charging on deck, similar to their predecessors. While we don't know if a faster version of the technology will make an appearance or not, rumor has it Samsung will have an all-new 10W wireless charger for the Galaxy S9 that might or might not be capable of charging other Samsung devices simultaneously akin to Apple's AirPower charging pad.
The recent listings for the SM-G9600/DS (Galaxy S9 China edition), SM-G9608/DS (Galaxy S9 Taiwan edition), and SM-G9605/DS (Galaxy S9+ China edition) reveal that regular 5V/2A wired charging and 9V/1.67A/15W fast charging will be supported on the devices. That's essentially similar to the specifications of Samsung's own Fast Charge technology found inside the Galaxy S8, S8+, and Note 8, which means that the Galaxy S9-series is certainly not getting updated with faster charging speeds. Of course, there's nothing bad in that - the Galaxy S8 and S8+ charged up pretty fast, with both the 3,000mAh battery of the S8 and the 3,500mAh capable of getting fully charged in around an hour and 40 minutes or less.
According to recurring rumors, the Galaxy S9 and the S9+ will features similar batteries (3,00mAh for the S9 and 3,500mAh for the S9+), so it's safe to assume the S9 series will charge as quickly as its predecessors.
Back to top...
Price and release date
Due to the lack of lack of any indications of the price so far, our prediction is that the Galaxy S9 and S9+ will initially cost as much as the S8 and S8+ did at launch, though it will likely be safe to add a potential $50 Samsung tax added on top.
Here's what the Galaxy S8 and S8 cost at the time of their launch on US soil:

Yet, leakers have raised their voices that consumers should prepare their money because the Galaxy S9 and S9+ will possibly be the "most expensive Galaxy devices ever". The Galaxy S7 was priced at $650, the Galaxy S8 started at $750, so does this mean we are looking at a $850 starting price for the Galaxy S9 and even more for the Galaxy S9+? The possibility is definitely up there as flagships seem to be exploding in price lately, mostly thanks to Apple charging its iPhone X at nearly a thousand dollars a few months ago.
But when are we going to see the next big things unveiled? Traditionally, Samsung had the habit of unveiling its flagship material a day or two before MWC in Barcelona kicked off, though last year it opted for a separate keynote a month later after the trade show in order to have the full media attention to itself. Theoretically, both scenarios could happen in 2018 as well, meaning that we might see the Galaxy S9 and S9+ at MWC 2018... or at a separate media event later that spring. MWC 2018 is kicking off February 26, 2018, which means that February 25 could be it.
Update: And just like that, we hit it right on the head. Samsung has released its invitation for an Unpacked event on February 25. As usual with Samsung, it's hinting at a few things, namely:
While the still image one tells nothing, Samsung actually posted a short animated version on Twitter, which shows a bunch of dandelion seeds slowly being carried by a gust of wind and drawing the number 9, which then slowly goes out of focus and blurs beautifully. Hence, it could be realistically speculated that the flying dandelion seeds are a dead giveaway for the super slo-mo capabilities of the Galaxy S9/S9+, because let's face it, blowing at the seeds of this weed and capturing the act on camera would almost always yield cool slo-mo results.
Furthermore, the slow fading out of focus of the number 9 is hinting at the creamy bokeh-rendering traits of the upcoming flagships courtesy of the widest end of the variable aperture, which should make portrait shots that much appealing.
Finally, we 'd speculate that the beautiful and deep purple color of the 9 could be a hint that the Galaxies could be available in this vibrant color option. The Galaxy S8 and S8+ also came in a somewhat similar shade of violet, dubbed Orchid Grey, but it was way more muted and inconspicuous than this one.
Keep your eyes peeled for that anticipated Unpacked event and rest assured we will keep you in the loop!