Galaxy S6 goes through scratch, bend and fire testing: tough as nails (video)
60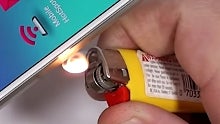 The new
Galaxy S6
ships with a premium metal-and-glass fusion of a unibody - a first for a Samsung flagship, and has already withstood its fare share of the inevitable torture chamber that each new and popular handset goes through nowadays.
Both the Galaxy S6 and
S6 edge
use a grade 6013 aluminum alloy for their casing, while most other smartphones, including the
iPhone 6
/
6 Plus
, make do with a derivative of the inferior 6063 grade. While 6013 is not the highest end 7075, it is in-between, and is still used to make things that need to be light and durable, like plane fuselage, cars, yachts, mountain bikes, and so on. In fact, the 6013 aluminum is 1.5 times stronger and 1.2 times more scratch-resistant than the type of aluminum used in the new iPhones.
This rigidity shows in the video below, where a Galaxy S6 is subjected to being scratched, burned, and bent, all of which it passes with flying colors. Well, at some point the phone bends under the significant pressure, and the glass plate on top of the aluminum alloy frame goes unhinged, but it still works, plus, if you are wondering
how to reach the Galaxy S6 internals
faster, this is the way to go.