Galaxy S6 has a removable back and replaceable battery, as per the manual, just don't try it at home
37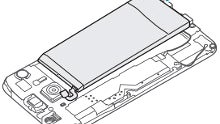 Samsung sealed the battery compartment of the new S6 flagship for the first time in its flagship line history, in order to make the thin metal-and-glass fusion that comprises the
Galaxy S6
chassis. This unibody construction eventually allowed it to use the so-called premium materials for the casing, i.e. anything that is not plastic, but there is a catch.
Obviously, now you can't just pry off the rear cover, and swap the battery at will, like you used to be able to with all Galaxy S flagships so far, but one thing caught our attention while examining the Galaxy S6 user manual that was outed last week. Towards the end, Samsung has placed a section titled "Removing the battery (non-removable type)."
While this might sound paradoxical, there is actually a way to replace the dead battery in your Galaxy S6, though it includes removing the rear half of the chassis, which is apparently the easy part, since then you have to unscrew and remove the circuit board, then unplug the battery pack connector, before you place in the new one. Not exactly as straightforward as swapping a spare you carry in your pocket, but it's nice to know that if the battery proves defective for some reason, you will be able to take the S6 to the nearest repair center, and have it replaced fairly quickly.