Galaxy S5 Android 5.0 Lollipop update already rolling out in Samsung's homeland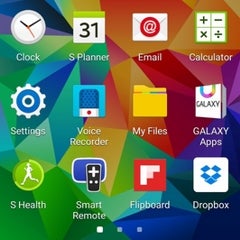 The news that
the S5s around Samsung's R&D unit in Poland are receiving the Android 5.0 Lollipop update
are not too shabby, but those folks always get the newest stuff for testing purposes anyway, and it is usually a while before it gets pushed to the general public. Out of Samsung's homeland, however, comes a much more welcome info nugget - the company has begun a general rollout of the newest Android version to its Galaxy S5 flagships there.
If history is any indication, this means that the rest of the world will start getting it three or four weeks afterwards, though how will the US carriers far is anyone's guess at this point. A French carrier update schedule has leaked, however, which pegs the S5 for sucking on a Lollipop in December, which would coincide with Samsung's promised year's end timeframe.
The update brings with it Material Design sprinkled throughout Samsung's TouchWiz UX, which arguably makes it even more inconsistens, but also lockscreen notifications, performance and battery life increases, as well as new looks and features for Samsung's own apps, clipboard, and fingerprint sensor.