Galaxy Note 10+ specs comparison vs OnePlus 7 Pro, Google Pixel 3
2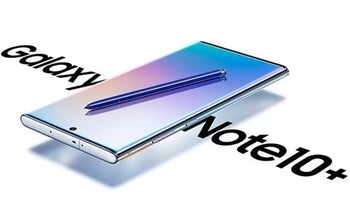 The Galaxy Note 10 and Note 10+ are the new Samsung's heavy-hitters that will have to compete against the iPhones, Pixels, and OnePluses of the second half of the year.
Just like the Galaxy S series a couple of months ago, the Note series now embarks on an exciting new journey as far as design and features go, stretching the limits of smartphone design as we've known it and setting new benchmarks for its competitors.
For the first time we've got two separate Note devices released back-to-back, Well, technically, you can count the Galaxy Note 4 and Note edge as the pioneers in thes field, but the latter was more of an experiment to test out the waters with its curved screen design. An experiment that's proven to be quite successful as most of Samsung's flagship phones ever since have employed a curved display, some moreso than others.
How do they stack up against the OnePlus 7 Pro and the Pixel 3, 3 XL? Only one way to find out!
6.20 x 3.05 x 0.30 inches (157.5 x 77.4 x 7.7 mm)
6.22 x 3.02 x 0.31 inches (158 x 76.7 x 7.9 mm)
6.39 x 3.04 x 0.31 inches (162.3 x 77.2 x 7.9 mm)
7.34 oz (208.0 g)
the

average

is 6 oz (171 g)
6.49 oz (184.0 g)
the

average

is 6 oz (171 g)
6.91 oz (196.0 g)
the

average

is 6 oz (171 g)
Back: Glass; Frame: Stainless steel
Back: Glass (Corning Gorilla Glass 5); Frame: Aluminum
Back: Glass (Corning Gorilla Glass 6); Frame: Aluminum
Water, Dust; IP68
Water, Dust; IP68
Water, Dust; IP68
3D Face unlock
Fingerprint (touch)
2D Face unlock, Ultrasonic in-screen fingerprint
OLED
Super AMOLED
Dynamic AMOLED
HDR support, Pressure-sensitive, Oleophobic coating, Scratch-resistant glass, Ambient light sensor, Proximity sensor
HDR support, Scratch-resistant glass, Ambient light sensor, Proximity sensor
HDR support, Scratch-resistant glass, Ambient light sensor, Proximity sensor
Dual camera
Single camera
Quad camera
12 MP (Sapphire crystal lens cover, OIS, PDAF, CMOS image sensor, BSI sensor)
12.2 MP (OIS, PDAF, CMOS image sensor)
Aperture size: F1.8; Focal length: 26 mm; Sensor size: 1/2.55"; Pixel size: 1.4 μm
Aperture size: F1.8; Focal length: 28 mm; Sensor size: 1/2.55"; Pixel size: 1.4 μm
Aperture size: F1.5/F2.4; Focal length: 27 mm; Sensor size: 1/2.55"; Pixel size: 1.4 μm
12 MP (Telephoto, Sapphire crystal lens cover, OIS, PDAF, CMOS image sensor, BSI sensor)
12 MP (Telephoto, OIS, PDAF)
Optical zoom: 2.0x; Aperture size: F2.4; Focal Length: 52 mm; Sensor size: 1/3.4"; Pixel size: 1 μm
Optical zoom: 2.0x; Aperture size: F2.1; Focal Length: 52 mm; Sensor size: 1/3.6"; Pixel size: 1 μm
16 MP (Ultra-wide)
Aperture size: F2.2; Focal Length: 13 mm; Pixel size: 1 μm
0.3 MP VGA (ToF 3D depth sensing)
3840x2160 (4K UHD) (60 fps), 1920x1080 (Full HD) (240 fps), 1280x720 (HD)
3840x2160 (4K UHD) (30 fps), 1920x1080 (Full HD) (120 fps), 1280x720 (HD) (240 fps)
3840x2160 (4K UHD) (60 fps), 1920x1080 (Full HD) (240 fps), 1280x720 (HD) (960 fps)
OIS, Time-lapse video, Continuous autofocus, Picture-taking during video recording, Video calling, Video sharing
OIS, EIS, Video calling, Video sharing
OIS, HDR, Time-lapse video, Hyperlapse, EIS
7 MP
8 MP
10 MP
1920x1080 (Full HD) (60 fps)
1920x1080 (Full HD) (30 fps)
3840x2160 (4K UHD) (30 fps)
Apple A12 Bionic APL1W81 (7 nm)
Qualcomm Snapdragon 845 SDM845 (10 nm)
Qualcomm Snapdragon 855 SM8150 (7 nm)
Hexa-core, 2490 MHz, Vortex and Tempest, 64-bit
Octa-core, 2500 MHz, Kryo 385, 64-bit
Octa-core, 2840 MHz, Kryo 485, 64-bit
Apple 4-core GPU
Adreno 630
Adreno 640
64GB, not expandable
64GB, not expandable
256GB
iOS (15.x, 14.x, 13.x, 12.x)
Android (12, 11, 10, 9.0 Pie)
Android (11, 10, 9.0 Pie), Samsung One UI
USB Power Delivery
USB Power Delivery
Qualcomm Quick Charge 2.0, USB Power Delivery, Samsung Adaptive Fast Charging
25.00 hours
the

average

is 11 h (660 min)
LTE: 16 hours; Wi-Fi: 16 hours