Galaxy A8 (2016) images leak: thinner than Note 7, glass and metal
27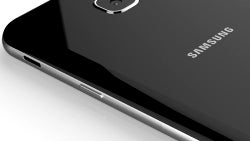 If you are on the hunt for a non-flammable Samsung Galaxy with a 5.7" display and have no use for a stylus, you may be in for a treat, as the renders below are depicting just such a handset. Well, the non-flammable part is still up in the air, as the alleged
Galaxy A8
(2016) that you see here hasn't even been announced yet, but we doubt Samsung will repeat the mistake it made with the Note 7's battery supplier.
In any case, the images come from a credible source, and depict a glass-and-metal phone that is very similar to the design language of the
Galaxy S7
, but will eventually host a much larger, 5.7" display. The source even lists the exact dimensions - 156.5 x 77.5 x 7.3mm - making it taller and wider than the Note 7. The wider part is easy to predict, as it doesn't have a curved screen or any such shenanigans, but those who were waiting on a
flat screen Note 7
might be intrigued, not to mention the cheaper price.
The rumored specs on this one are a 1080p display, Exynos 7420 chipset, 3 GB of RAM, and 32 GB of storage. A 16-megapixel main camera may accompany a 5-megapixel effort for selfies, while Android 6.0.1 Marshmallow will be pre-installed, tips the rumor mill. As for this strange opening you see on the right side above the lock key, it might be just a speaker in an alternative position, since we don't see the obligatory sound blaster positioned anywhere else. Any takers?