GIF Watch Face will have you checking the time on your Android Wear smartwatch more often
1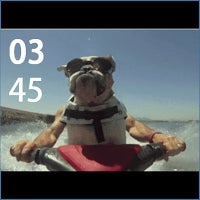 A fun little Watch Face app is out to help you drain your battery faster! It's called GIF Watch Face and what sets it apart is – you guessed it – GIF wallpapers. What makes it more special is the fact that it gives you a brand new image each time you wake the screen.
The app downloads 100 GIFs from Giphy.com, when first launched. Then, it picks a random image to show from that pool, each time the display lights up. The developers say it refreshes with popular GIFs every hour, however whether it refreshes all 100 images in its storage is unclear, but we doubt that, since it would be a complete battery and data hog. The Android Police review, linked below, warns that switching the display on and off too fast will end up with a black screen, since, presumably, the app needs few seconds to cache the next image.
So there you go, meme fans. An app that will have you standing there, constantly switching your smartwatch on and off. If someone is around to record you, you may just become an immortal meme yourself!
Download:
Android
(free)