From now through Saturday, grab over $90 in paid Android apps for free from the Amazon Appstore
2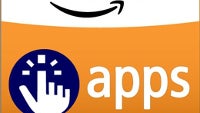 Yesterday, we told you about
10 paid apps for iOS that are free for a limited time
. Today, Android users can pick up some paid apps of their own for free, thanks to the largesse of Amazon. The value of these apps adds up to more than $90 and includes Photo Lab PRO (normally $2.99), Fruit Ninja (99 cents) and Scribblenauts Remix (99 cents) to name three apps that you can now install for free.
If you play guitar, you might want to take advantage of the offer to add Songsterr Guitar Tabs and Chords to your Android device. Usually priced at $4.99, this could be a useful app to those budding lead guitarists out there. Tiny Scan Pro is a PDF document scanner that will save images on your phone. This is also priced at $4.99, but is free at the moment. The largest savings is the $11.99 you get to keep by downloading AVG AntiVirus PRO Android Security at no cost.
The apps are free from now through Saturday, August 15th. Once the clock hits Midnight Sunday morning on the West Coast of the U.S. (3:00am Sunday morning on the East Coast), the apps are no longer on the house. So, if you see something that you want, grab it now before you have to grab your wallet on Sunday morning.
source:
AmazonAppstore