French retailer sets the Nokia Lumia 920 price at EUR 650, throws in a free charging pillow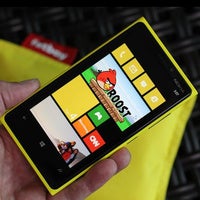 While we still don't know what the Nokia Lumia 920 will be priced on/off contract in the US, the
SIM-free pricing has already popped up in a few places in Europe
, and it seems to be in line with your typical flagship smartphone launch there, that usually gravitates in the EUR 600-650 ballpark, unless it is an iPhone, where the floor in Europe seems to be EUR 800.
A French retailer is the next entity to place the Lumia 920 on preorder for EUR 649.90 (about $840), and even promises availability at the end of October. They also throw in the Fatboy
wireless charging
pillow in that price, but only for the first 200 preorders, so hurry up.