Fitbit Flex is a Bluetooth fitness tracking wristband, fresh off CES 2013
0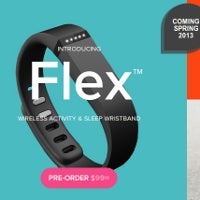 Fitbit has one of the most popular fitness trackers on the market out there, but with no wristband to compete in convenience and functionality with devices like the Jawbone Up and the Nike FuelBand, it has finally decided to fill in that gap with a gadget of its own.
The
Fitbit Flex
wristband is a $100 waterproof device that will keep track of your walking, running, calories spent and the distance you've traveled.
All of that precious data is periodically sent over Bluetooth to a website where you need to have an account of your own. The wireless syncing is definitely a plus over similar devices like the Jawbone Up that you need to plug in to sync.
The one downside is the lack of an easy way to track your sleep - you can, but you would need to manually use the accompanying app.
Good news is battery life on the Flex is outstanding with an average of five to seven days.
The Fitbit Flex is up on pre-order today with a release date set for sometime this Spring.
source:
Fitbit Flex