First hands-on videos of $150 Asus MeMo Pad start to appear
1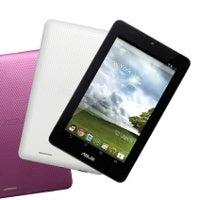 The $150 7-inch
Asus MeMo Pad
announced
right after CES
is an impressive device not because of high-end specs (it doesn't have them), but because of its low price that undercuts the Nexus 7. And while most of the world is still waiting for its release, lucky folks in Romania got an early hold of the compact tablet and you can see it in action right below.
First, though, let's freshen up your mind about the MeMo Pad 7's specifications. The device features a 7-inch 1,024 x 600-
pixel
screen, a single-core 1GHz Via WM8950 processor with Mali 400 graphics, 1GB of RAM and 16GB of internal storage.
The tablet features Android 4.1 Jelly Bean which is good news for the platform's smooth performance and stability.
The device might look similar to the Nexus 7, but in reality it has very little in common. The plastic allegedly feels tougher. Also, the screen is not as bright or detailed as on the Nexus 7. Take a look.
source:
Imidoresc