Asus MeMO Pad Review
5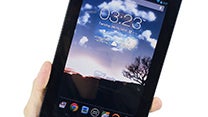 Introduction:
The
Google Nexus 7
has been tearing up the scene for close to the better portion of the last year now, but as some of us sometimes forget, it's an Asus manufactured tablet. Riding high on the success, Asus is hoping to emulate the same with its latest budget oriented 7-inch tablet in the
Asus MeMO Pad
, however, the Nexus 7 has raised the benchmark in the space. Perhaps, the MeMO Pad's even lower price point of $150 might win over skeptics, but it surely needs to impress on all fronts to remotely be deemed as a worthy adversary.
The package contains:
microUSB cable
Wall Charger
Quick User Guide
Important Safety and Handling Information
Design:
Modest to say the least, it's surprising that the Asus MeMO Pad mirrors the design of the Nexus 7, which isn't a bad thing per se. Relying on a similar rigid patterned rear casing that has a subtle matte finish, it's able to maintain a very clean finish. Carrying it around isn't much of an issue, too, considering its undoubtedly comfortable to grasp with even a single hand, but it's minutely wider and thicker than it close sibling. Overall, the design isn't stylish or the most ornate, but rather, for something so cheap, we can't complain too much about the package.

In saving cost, the tablet forgoes having a rear camera, and instead, we're only presented with a 1.3-megapixel
front facing camera
that's mainly reserved for video chatting. Also, there are
no capacitive Android buttons
with this, because they're incorporated with software interface.
Checking
around the edge
of the tablet, we find all the usual suspects we're accustomed to seeing – these include the power button, volume control, microphone, 3.5mm headset jack, and the microUSB port for charging/data connectivity. Interestingly enough, we're so stoked to find an always-useful microSD card slot as well, which is something lacking on the Nexus 7.
Like we said, there's no rear camera on this 7-incher in
the rear
. Well, the only thing we do find is its noticeable Asus logo and speakerphone grill.
Display:
Ugh, now we know why this is so cheap when it comes to pricing – it's because the display is downright abysmal. Specifically, it features a
7-inch 1024 x 600 LCD display
that's just painful to look at! To be exact, its resolution is significantly lower than others in the same category, with below average pixel density of 170 ppi. Making matters worse, is the fact that colors simply look bland, which doesn't help with the poor viewing angles. Therefore, it's nearly impossible to view outdoors with the sun present. So yeah, it's mighty ugly, which is unfortunate.
Recommended Stories