First camera samples from the Lumia 925 outed by Nokia
69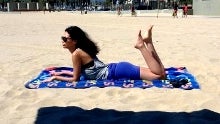 Nokia's
Lumia 925
sporting a
PureView Phase 2
camera with optical image stabilization, coupled with a cool new Smart Camera app is all fine and dandy, but how about some samples?
The Finns have uploaded a few photos from their newest and slimmest flagship, which demonstrate what the camera is capable of, allegedly straight from the phone, though likely taken by a pro who knows what they are doing, so your results may vary.
The new Action Shot and Motion Blur modes are demonstrated, as well as a few other novel for Windows Phone camera tricks, which will make your photos look like poor magic, floating beach towel included. Hit the source link for the full resolution of the images if you want to examine noise levels and other details under a scrutinizing photographic eye.