First advertising platform for Apple Watch is introduced
14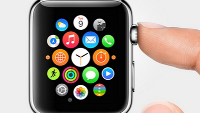 The eagerly awaited Apple Watch
could be launched as soon as next month
, and with the imminent release of the wearable in mind, Tap Sense has announced the first advertising platform for the device. The focus of the platform will be on local ads, mostly from retailers. Using the GPS capabilities of the timepiece, coupons from nearby merchants will be displayed on Apple Watch.
The idea is to use the coupon to give a consumer the incentive to enter a nearby store. And with Apple Pay integration, the purchase can be paid for and the discount applied, all from the shopper's wrist.
Tap Sense says that its SDK, in combination with Apple WatchKit, will allow for ads that go beyond the typical web banners. The company says that its SDK provides tools for app developers, advertising agencies, and marketing firms. And while no one likes to be bombarded with advertisements, the money you save on all of those impulse buys will soon have you looking forward to receiving the next coupon.
"Wearables and Internet of Things (IoT) are the next frontiers in the mobile revolution. We are excited to announce industry's first programmatic ad platform for Apple Watch developers and brands. While most of our competitors are focused on banner ads and legacy platforms, we are focused on innovation and next generation platforms. Apple Watch has the potential to be a category disruptor similar to iPod or iPhone and we believe that it provides great opportunities for brands and developers to deliver engaging experiences to consumers."-Ash Kumar, co-founder and CEO, TapSense
source:
AppleInsider