Firefox for Android beta is upgraded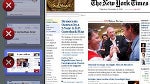 Mozilla has upgraded the Firefox for Android beta. Now down to 13.38MB at launch, 60% of the previous version has been cut away to make the software more svelte. Optimized and given a face lift, Javascript tests show that Firefox runs 25% faster than the stock browser on Android devices.
Also reduced is the battery consumption required to run what is now Beta 2 of Firefox 4 for mobile. Pinch-to-zoom is more responsive and accurate and the UI has more of an "Android" look to it. A built-in crash reporter is on board while pages load 40% faster than the speed seen on beta 1. Images and screens can be shared easily with the Android sharing system and if the content crashes, the entire browser does not follow.
The latest version of the Firefox browser for Android beta can be installed free from the Android Market. Or, you can also download the app from the source link where you can also find a complete list of improvements made in beta 2.
source:
Mozilla
Recommended Stories