Fender edition of myTouch 3G about to rock?
0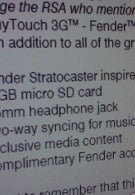 Thinking about the design and finish of a Fender guitar usually brings to mind some of the Strat wielding rock heroes of our time. Eric Clapton, of course, is probably the first name that comes to most people's mind. How about Android? Does looking at a Fender guitar make you think of the little green robot? If not, soon it just might as a tipster for Tmo News tells them that the Fender edition of the myTouch 3G should be launched on January 20th. The device has a finish that resembles the look of a Fender Stratocaster or Telecaster, and thanks to the Tmo News tipster, we also have some information about the handset to pass along.
The Fender edition of the myTouch 3G will come with a 16GB microSD card and will wear a 3.5mm audio jack so you can use your favorite earphones on the handset. Various Fender branded accessories will also be included. If you rock and you want your phone to show off to people who you are, this might be a useful way to tell the world that you are a musician. On the other hand, if you are so off key that the soap cringes when you sing in the shower, well, there is nothing wrong with owning the device and faking it.
T-Mobile myTouch3G Fender Specifications
source:
TmoNews