Evernote for Android gets updated to 6. Nifty improvements inside
3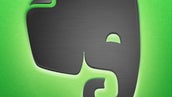 Evernote is a cloud-based app that allows users to add, create, view, and edit notes, pictures, documents, and even sounds across different devices. It supports all major operating systems and is kind of like a Dropbox for note-takers.
The developers have released an update for its Android app. The new Evernote 6 adds a couple of features and redesigns some elements – such as the Search bar and the New Note menu, in order to make them more functional.
You can now find the New Note button to be hovering in the lower-right corner of the screen. Touching it will pop out, in a shiny new way, a choice of the 6 different note templates that current users are familiar with. The Search has been given advanced filters to help scan your plethora of notes easier.
A nifty new feature is the ability to save a webpage to Evernote. To do so, you need to have the page opened in your browser of choice. When you want to save a certain page, tap "share" and choose Evernote. The app's mascot – a green elephant – will show its head on the bottom on the screen, much akin to a Facebook chat bubble. At this point – tap the elephant icon and you will get to choose which Evernote notebook you want to save the webpage to. Another tap sends it in.
Other improvements include:
redesign of the Navigation Drawer
faster and simplified note sharing
a new tutorial to help users better understand Evernote functions
layout improvements
enhanced handwriting
Are you an Evernote user? Have you used its handwriting function yet? Does this update make it less awkward for you?
Download:
Android
source:
Evernote
via
Engadget