Evernote app coming to Apple Watch
3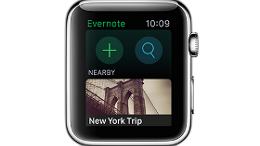 Note taking app Evernote announced on Monday that it will be offering an app for the Apple Watch. But don't expect it to be just a smaller version of Evernote's iOS app. "
An app on a watch doesn't replace an app on the phone, it complements it. That's how Apple Watch is designed, and it's exactly what Evernote for Apple Watch is all about
," said the company.
Instead, Evernote says, the two apps will work together "
beautifully
." The features on the Evernote app for the Apple Watch will allow you to start reading a note on your watch, and continue reading it on your phone. Thanks to the Apple Watch Evernote app, you can keep the iPhone in your pocket when checking items off a list, or when setting reminders.
Other functions that you will be able to handle on your watch include the ability to dictate notes and perform searches. The Apple Watch
will be available on April 24th with preorders starting April 10th
. We should hear more in the near future from other companies about their plans to offer apps for the Apple Watch.
source:
Evernote