Engineers working on new iPhone display for AT&T stores?
This article contains unofficial information.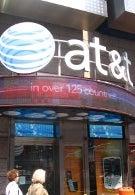 AT&T has reportedly dispatched engineers to corporate owned stores in an effort to work out the logistics of setting up a large iPhone display. This is a supposedly a new, large and different style of display that is worthy of heralding in a new look for Apples' touchscreen device. Something new might be necessary to show off the handsets' new front facing camera. The carrier really doesn't have any other releases coming that would justify this kind of activity for an in-store advertisement. Next Monday is the kickoff of Apple's WWDC show during which Apple CEO Steve Jobs is expected to introduce the next generation of iPhone. So far, we have seen the new model left in a California bar and displayed in Vietnam. Right off the bat, the biggest change to the look of the phone is the flattened back compared to the current rounded design, and the previously mentioned front facing camera.
Apple iPhone 4G Preliminary Specifications
source:
BGR