Eden UI of the Notion Ink Adam tablet demoed in two new videos
0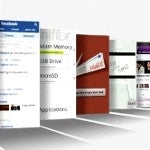 One of the most virally hyped and expected tablets at CES will undoubtedly be the Notion Ink Adam. Dual-core chipset, optional
transflective Pixel Qi display
, Android, decent pricing - what's not to like here on paper? Notion Ink's CEO demoed the Honeycomb-inspired Eden UI
recently
, trying to show some of the cool concepts behind it.
Yesterday he posted another two thorough videos, of better quality this time, to explain the Leaves concept and other features. We must say that we are satisfied with what we are seeing, the Eden UI overlay looks very intuitive and tailor-made for tablets, which it should be, considering all the hype and the mass addiction the Notion Ink Adam has managed to create around itself.
We especially liked the attention to the little details, like tapping on the loading sign to stop a page from loading. These are probably the last videos before the CEO heads off to the
CES show next week
, so they should keep you warm until the
Notion Ink Adam is revealed in Las Vegas in its (hopefully) fully-baked version.
We'll be reporting live from the floor at CES, so don't forget to tune in often for more details from the show next week.
source:
NotionInk