Notion Ink Adam demoes its Honeycomb-inspired Eden UI on video
0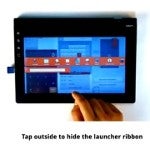 By that time almost everyone who has at least a marginal interest in smartphones and tablets, should have heard about the next "iPad Killer" - Notion Ink's Adam. The company's CEO has released a video of the tablet in action, showing off some of the interface functionalities, while trying to simulate a real-life experience with a bunch of applications opened at once. Have a look of the tablet's
Eden UI
demo, in a room and outside, after the source link.
The Gingerbread-running tablet is arguably the first using the
Pixel Qi
hybrid display technology - the more ambient light outside, the brighter this type of transflective display is, which makes it great as an e-reader in the sun. Since the backlighting can be off at the time, battery life improves dramatically as well. The downside is that in an e-reader state it is seemingly not able to represent a full color gamut, even in a hybrid state, where it uses the backlighting to some extent, while taking advantage of the screen's transflectiveness as well. Still, being able to read anything in direct sunlight is something other tablets can only wish for.
Other notable features of the 10" tablet are a speedy 1GHz dual-core Tegra 2 chipset, HDMI-out and a 3MP swivel camera, and the respectable six hours battery endurance with everything turned on, and the brightness on highest setting. Notion Ink is launching its own content store, too, called Genesis, and also has customized software for painting, corporate-grade email, and file browsing, among others, in its own Eden UI overlay. Not to mention the "bonus mystery feature", which might be a
physical trackpad on the back of the device
.
The Notion Ink Adam will be priced quite decently - the highest-end model with a PixelQi display and 3G should cost about
$498
. Notion Ink will be selling the tablet in the US first, and hopes to get a deal with a major carrier as well. The Eden interface is supposed to be closer to what the
tablet-optimized Honeycomb
will look like, rather than Android
2.3
.
source:
NotionInk