Doctors in new survey choose the Apple iPhone and the Apple iPad to save and access patient files
99+
While an apple a day might keep the doctor away, an Apple or two tells the doctors what to do. In a recent survey, physicians are choosing the Apple iPhone and Apple iPad as the devices they would prefer to use to
save and access
patient records. Doctors are demanding more medically-related apps and 83% of the healers are planning on using Electronic Health Records (EHRs) on mobile devices to analyze lab results, order meds, and update patient information.
Just as
Airline pilots are replacing tons of paper with iPads loaded with special apps
, doctors are replacing paper with iPads loaded with special apps that allow them to find specific information faster and more accurately. The financial aspects of this will amount to
billions of dollars
saved annually. But in terms of lives saved, that is a much more important metric that will show over time the importance of making this move.
59% of physicians who work out of an office already integrate a tablet into their office practice with the Apple iPad the
top choice
among these doctors. 68% of them choose the Apple iPhone over other smartphone platforms like Android, and both devices have found their way inside hospitals. One drawback right now is that the EHR's on the iPad or iPhone resemble the paper based forms. 71% of the doctors surveyed say the forms need to be made more "touchscreen friendly" so that medical staff can more quickly find the information they need.
The good news is that this is coming. 122 vendors of EHR record keeping say that they have native Apple iPad versions of their product in the works. Another 135 vendors say that they plan on making the switch from paper to iPad. And while the smaller size of a smartphone screen compared to a tablet makes it harder to use for medical purposes, 89% of doctors carry a handset despite the size of the glass making it harder to use to read X-rays, for example.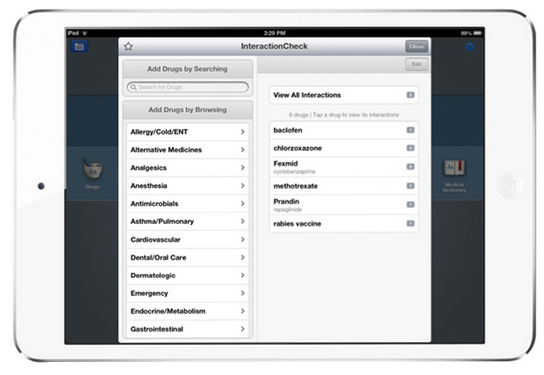 A mock up of how the Epocrates app would look on an Apple iPad mini
source:
AppleInsider