Disaster inbound: Nokia will not publish new Symbian themes after July 1!
50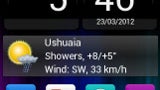 Apparently, the people at Nokia have sold their souls completely and will now heartlessly pull the plug on yet another lovely Symbian feature - themes. Starting July 1, developers will no longer be able to publish new Symbian themes in the Nokia store. Isn't that a disaster? We say it is!
OK, the thing is that
some
devs will still be able to publish themes in the store. It looks like Nokia will be initiating what it calls the Publisher Partner Program, with only a small number of developers able to take part (Nokia will pick the approved devs itself). That group of companies will be the only ones able to publish new themes come July 1.
The makers of themes that are currently offered at the story doesn't have much to worry about, as their content will continue to be available for download. However, those devs that aren't part of the Publisher Partner Program won't be able to update or make other changes to their themes. Interestingly, Nokia, seems eager to see you "
unpublish
" your work, which becomes evident in the last sentence of the email sent to Symbian theme publishers. You can find the complete message below!
Dear Theme Publishers,

With Nokia's family of Asha and Lumia devices gaining momentum, we have reviewed all developer partner programs at Nokia. Our aim is to ensure sufficient investment and support is being provided to help developers and publishers leverage the growing business opportunity in the Series 40 and Windows Phone platforms. To ensure the highest quality Theme content, we are implementing a Publisher Partner Program from 1st July 2013. Candidates for inclusion in this program are chosen by Nokia and have already been notified. After 1st July only these select partners can publish new Theme content to Nokia Store.

We regret any inconvenience these changes to our content programs may cause and we welcome developers and publishers to work with Nokia to take advantage of the growing opportunity represented by the Series 40 and Windows Phone platforms. Best regards,
Nokia Developer Experience

Themes FAQs:
Is the move to a Publisher Partner Program a sign of a bigger ramp down?
It is the result of an ongoing review or our current programs designed to ensure the best personalization content reaches partners. We have not announced any further changes to our programs.

What will happen to existing content?
All existing content will continue to be available for download and developers and publishers will continue to receive download and revenue reports as well as payouts for
downloads.

Who qualifies for Publisher Partner Program for Themes?
Access to this program will be selective and based on the discretion of Nokia. The goal of program is to ensure wide selection of good quality personalization content for consumers.

If I am not selected to the Publisher Partner Program, can I update my Themes content in Nokia Publish after 1st July 2013?
No. You cannot make any changes to your current content submission. You are welcome to unpublish your content from Nokia Store.
source:
AllAboutSymbian