Did Apple purposely tone down the launch of its Apple iPad mini with Retina display?
15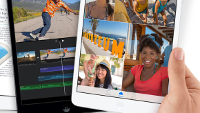 Last Tuesday, we first had an inkling that Apple would launch the
Apple iPad mini with Retina display
later that morning,
when a post appeared on Apple's GSX support site
. Quietly, without making a big splash,
Apple launched the tablet just hours later
for online sales. And this quiet launch was actually a great move on the part of Apple, according to internet marketer Ed Dale.
Dale had just traveled to Asia where he was told that no Apple product ever (or ev-ah if you want to say it with some panache) had been requested as much as the iPad mini with Retina display. And the problem with that is the extremely low amount of inventory that Apple has built up of the slate. It's old news now that Sharp's production yield of the Retina display panel is ridiculously low
because of a problem the Japanese manufacturer has had with burn-in
. Apple has been so desperate that it called in its number one rival, Samsung, to produce some of the glass. That is like Burger King making burgers for McDonald's.
By keeping the launch of the Apple iPad mini with Retina display on the QT, the Cupertino based tech titan achieved some of its goals, according to Dale. It made sure that only true Apple fans had first crack at purchasing it. After all, only those with a passion for tech would have been following the breaking story in the middle of the night, according to Dale. By simply releasing the tablet for online sales, it prevented angry customers from going berserk in an Apple Store once the scarce inventory sold out. This rewarded those who were following the story instead of rewarding those waiting in line who happen to have a big bladder, or who pay someone to stand in line for them.
From a public relations standpoint, Apple did a wise thing. On the other hand, had there been no part shortage, the chances are that Apple would have once again catered to the media's desire to see people camping out for days on pavement, just to shell out cash for the latest model of a tablet. But with the situation as it was, kudos to Apple for making sure that their fans were taken care of first by resorting to a quiet launch of what could end up being one of the most in-demand Apple products of all time.
source:
EdDale
via
BGR