Despite earlier report, there is no Ice Cream Sandwich for Motorola DROID RAZR on Tuesday
36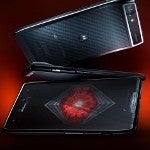 Exactly one week ago Tuesday, speculation was swirling (or whatever speculation does)
that the Motorola DROID RAZR would be receiving the Android 4.0 Ice Cream Sandwich update on June 12th
. The source for the report that was passed along by
CNET,
was an anonymous insider at Verizon. But a VZW Support Twitter account sent out a tweet saying that
the date for the update has not yet been set
. The tweet says that once a date is decided on, it will be accessible at vzw.com/support.
only a small number of them are affected
allowing for changes to be made before a large number of handsets are out of commission. No soak test, no software update. It's as simple as that. For example, earlier this year Motorola conducted a soak test for the Motorola DROID RAZR
as users tested out Android 2.3.6
.
Even if you are disappointed because your Motorola DROID RAZR has not transformed from Gingerbread into Ice Cream Sandwich, there is no reason to pout. You know that much sooner than later, you will be
rockin' Android 4.0 on your Motorola DROID RAZR
.
source:
DroidLife