Motorola DROID RAZR Review
99+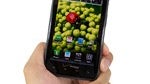 At one point not too long ago, high-end Android powered smartphones were considered to be a rarity in the landscape, but in the last couple of years alone, it seems we've been inundated by them – to the point that the market was over-saturated. In fact, it seemed like every month (even weeks), some kind of high-end device was being announced or launched, which made it very difficult for consumers to separate the great from the greatest. Looking back at it now, there's no arguing that we've been jaded by it all, since our expectations have become rather cutthroat in what is perceived to be a game changing device.
Combining two of the most memorable brand names in phone history, the
Motorola DROID RAZR
is bent on establishing itself as the poster child of tomorrow's next-generation Android smartphone selection. On one hand, it follows in the same stylistic manner that made people fall in love with the original Motorola RAZR from back in the day – thanks to its insane razor thin profile construction. Meanwhile, it doesn't skimp out from what we've seen already in the past, considering that it's packed to the brim with some cutting-edge technology to make it one drool-worthy smartphone – like its 4G LTE connectivity, Super AMOLED display, and dual-core processor.
Packing all of that hardware, and some additional software functionality from Motorola, it's priced at $299.99 with a two-year contract – thus, potentially making it one justified price point. Knowing that some other respectable handsets are on the horizon, namely the
Samsung Galaxy Nexus
and
HTC Rezound
, we're curious to see how the Motorola DROID RAZR is going to set the bar. Let's not waste anymore time and dive right in!
The package contains:
Motorola DROID RAZR
microUSB cable
Wall Charger
Getting Started Guide
Product Safety & Warranty Information
This is the review of the Verizon-bound DROID RAZR. The European version is called "Motorola RAZR" and is identical, except for the fact that it is a GSM+UMTS phone, instead of CDMA+LTE.

Design:
Game changing! That perfectly sums up the overall design of the Motorola DROID RAZR seeing that it flaunts one of the most compelling handset designs in recent memory. We're not kidding about that, because going forward, all other smartphones have to live up to its mark.
Aesthetically, it combines the designs of the
Motorola DROID X
series and the
PHOTON 4G
, but it's able to dramatically separate itself from them thanks to its remarkable razor thin construction. Right off the bat, we're mesmerized by its 0.28" (7.1mm) thickness – making it the thinnest smartphone on the market. However, it's not uniform because of the hump towards the top where the camera sensors are placed. Regardless of that, it's an incredible engineering masterpiece to behold considering that it packs 4G LTE connectivity. And to complement its svelte appearance, it's by far one of the lightest smart phones in its size category.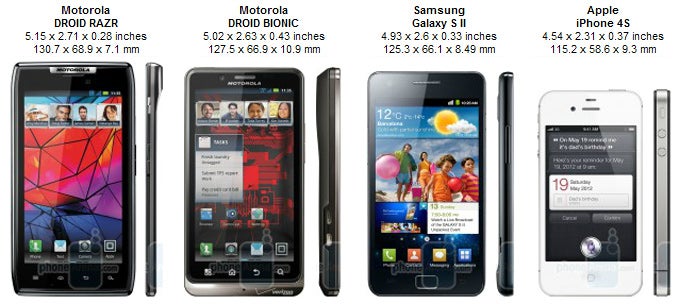 You can compare the Motorola DROID RAZR with many other phones using our
Size Visualization Tool
.
For something so thin, some would probably envision it to be frail, but there's nothing to be worried about because it's constructed out of the finest materials out there. Specifically, it's internally strengthened by its stainless steel chassis, which is further supplemented by its KEVLAR fiber back cover for reinforcement and water repellent nanocoating to absorb some levels of liquid splashes - though, it's not completely waterproof. Tell you the truth, this is easily the most solidly built device we've seen put out of Motorola's camp. So yeah, it's a modern marvel in every way!
It's not the first time we're seeing a
4.3" qHD (540 x 960) display
with Gorilla Glass on a Motorola smartphone, that's because we've seen it done already on the DROID BIONIC and DROID X2, but what's new is the fact that it features a Super AMOLED panel instead of a traditional LCD one. Granted that it utilizes the PenTile matrix arrangement, it's more than capable of producing distinctive details to make even fine text more than visible to the eye. However, its pixel density of 256 ppi is way behind those of the upcoming GALAXY Nexus and HTC Rezound, which clock at 316 and 342 ppi, respectively.
Not surprisingly, we're captivated by the polarizing and saturated colors it's able to produce. Throw in its high contrast ratio, deep black color production, and wide viewing angles, it's well equipped in providing plenty of visual treats to our eyes. Still, we find ourselves covering the display with our hand in outdoor conditions.
Typically for an Android 2.3.x phone, we find the same set of capacitive
Android buttons
sitting beneath its display – with the microphone situated very close to the home button. Meanwhile, the
front-facing 1.3-megapixel camera
and narrow earpiece are all located directly above the display. Furthermore, to profoundly exhibit its premium taste, the Motorola name is etched into the diamond-cut aluminum accent.
On the left side
of the phone sits a plastic flap that hides away the handset's microSIM card slot and microSD card slot – the latter of which is preoccupied by a 16GB microSD card.
Rather than finding the dedicated
power button
on the top side of the phone, like most other recent devices, this time around it's positioned on the right edge along with the
volume rocker
. Between the two, the power button is slightly more raised versus the flat feel of the volume rocker – still, they exhibit a good response when they're pressed.
The
top edge
of the phone claims home to the handset's 3.5 mm headset jack, microUSB port, and microHDMI port. To think that they're all there is indeed impressive for device that's razor thin!
Finally, the
8-megapixel auto-focus camera
with LED flash and the speakerphone grill are all stuffed into the handset's hump, which forms the slight bulge that we've been accustomed to seeing since the original Motorola DROID X. In order to retain its slim appearance, Motorola has opted to keep its battery shut out from the world – essentially requiring you to send it away to get it replaced.
Motorola DROID RAZR 360-degrees View:
Recommended Stories