Deal: Unlocked LG G5 (32GB) costs just $210 at B&H, supports all major US carriers
4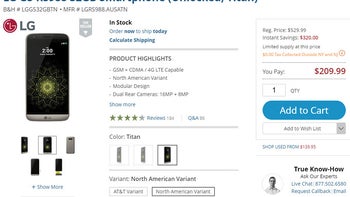 The
LG G5
is a top seller at B&H and for good reason. The former flagship smartphone is now on sale at the US retailer and for a price that managed to convince many customers that it's the right choice.
Few carriers still sell the
LG G5
, but you can easily find one at other US retailers for around $500-$550. However, B&H offers the smartphone for just $210, so you'll be saving at least $320 if you buy it now.
Another major benefit that customers who purchase the unlocked
LG G5
from B&H will get is the fact that the phone can be used on GSM and CDMA networks. So, no matter what's your favorite carrier (AT&T, Sprint, T-Mobile or Verizon), the LG G5 will have no issues with its network.
Keep in mind though that activation may not be supported on all compatible CDMA networks, so make sure you confirm with your carrier that the phone can be activated on their network.